The Offsite Construction Summit: Atlanta Attendees
The Offsite Construction Summit came to Atlanta on November 15, 2023, for a full day of presentations from some of the brightest minds and rising stars in the offsite construction industry.
A Must-Attend Offsite Event
Following successful events in Toronto, Denver, and Berkeley, this Atlanta Summit offered unparalleled opportunities for offsite industry networking and education for regional stakeholders. Each of our featured speakers brought years of offsite construction industry experience and knowledge, and all attendees received valuable time to network and engage with exhibitors and speakers alike.
With dozens of regional companies and organizations—including local and state governments, offsite manufacturers and contractors, design professionals, and more—represented, this event was an outstanding opportunity to meet and engage with the leading offsite construction stakeholders in and around the Southeastern United States.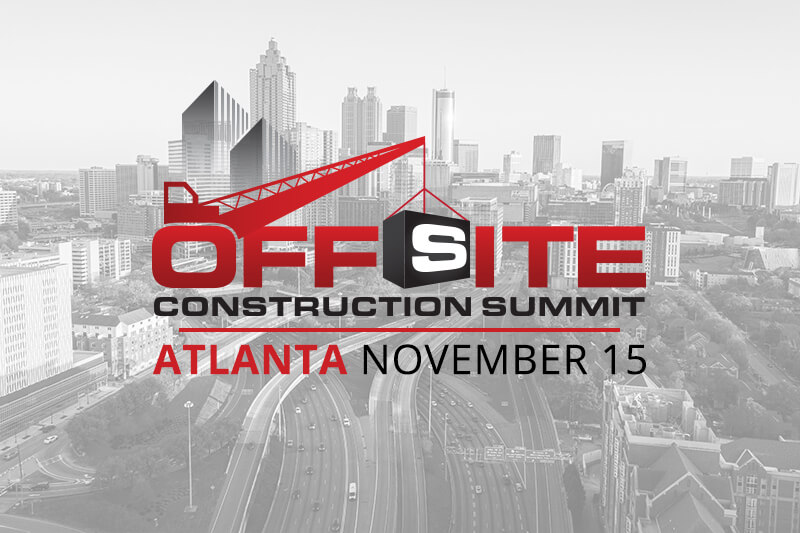 Who Attended the 2023 Atlanta Offsite Construction Summit?
With the explosion of interest in offsite and prefabricated construction, the offsite construction industry across Georgia and throughout the country are being called upon to deliver projects ranging from permanent multistory housing developments to mobile health clinics. This Offsite Construction Summit was the perfect opportunity for end users in and around the Southeast to meet the region's leading offsite manufacturers, designers, developers, and suppliers.
Representatives from the following companies and organizations registered to attend, present, and/or exhibit in Atlanta:
Affinity a VANTEM company
Andersen Windows
Apex Modular Solutions
Arbour Valley Communities
Arris Holdings
Atlantica Properties
BMarko Structures, LLC
Brave Control Solutions
BT Modular
Camp Creek Homes
CBS Construction Services, Inc.
Choice Stewards, LLC
Combilift USA
Cox Communications
Department of Community Affairs
Emmons Design
Empire Building Sciences
FlexTC
FourA Constructs
Framecad America, Inc.
FullStack Modular LLC
Hemlock Tiny Homes
Huntington Hotel Group
Impact Housing Group LLC
Informa
Island Development Group
Johns Manville
Lafaete Rentals
Landstar
Lindapter
Mākhers Studio
Marriot International
MBSI
Metwood Building Solutions
Miller Industries LLC
MiTek
Mitsubishi Electric Trane HVAC US
ModCorr, LLC
ModCribs
MODLOGIQ
Modular Building Institute
Module Design Inc
Murray Engineering P.C.
New Gen Architects
Newmark
Nichiha USA, Inc.
Northrop Grumman
Novingers inc
Nutis Visual Communications
Overcash Real Estate
PAC-CLAD | Petersen
Place Housing Solutions
Plast Termo Bron LLC
PM Security Solutions, Inc.
ProSet, Inc.
Quicken Steel LLC
Roman Products LLC
Singleton Designs, LLC
Sona Realty LLC
Soukup America
Surface Architecture + Design
Synergy Modular
Talba Group
TAMLYN
The Hauseman Group
Tlingit & Haida Indian Tribes of Alaska
Transhield, Inc.
Tribute Companies
U.S. Department of Defense USACE
USA INVESTMENTS & CAPITAL LLC
Wesco Distribution, Inc.
William A. Randolph, Inc.
WinTech
Z Modular