Cross-Laminated Timbers (CLT)
The construction sector has increasingly sought ways to integrate sustainability into its building practices, from lowering emissions to using ecologically-beneficial materials and causing less environmental degradation. Fortunately, plenty of sustainable materials — including wood — are available for new construction.
Although builders commonly use wood in building structures, cross-laminated timber (CLT) is somewhat of a new phenomenon.
CLT is only beginning to make headway in the United States, but many professionals are under the impression it'll reshape sustainable construction. Here is an explanation of CLT materials to provide a better understanding of its importance in the field.
What Is Cross-Laminate Timber?
CLT is a form of mass timber prefabricated by piling enormous kiln-dried lumber boards — usually odd layers of three to seven — in alternating directions. The layers are then fused with structural adhesives to ensure they're lightweight but sturdy.
In fact, cross-laminate timber is so durable that one study suggests it has the same structural resilience as concrete but with greater flexibility, requiring tremendous impact to break. Fires and earthquakes are no match for this wood, while its design ensures excellent acoustic and thermal performance.
In fact, CLT boasts a low environmental impact with fewer emissions than conventional concrete and steel materials. While Europe is the primary market, consumer demand for contemporary homes and multifamily housing complexes will likely extend cross-laminate timber further into the U.S.
Developed in Austria in the 1990s, CLT was only introduced into the International Building Code in 2015. Since then, the ICC has approved 14 code changes as part of the 2021 International Building Code (IBC) that allow mass timber structures of up to 18 stories.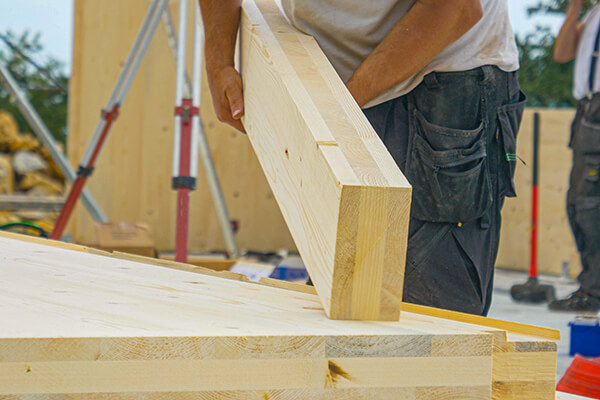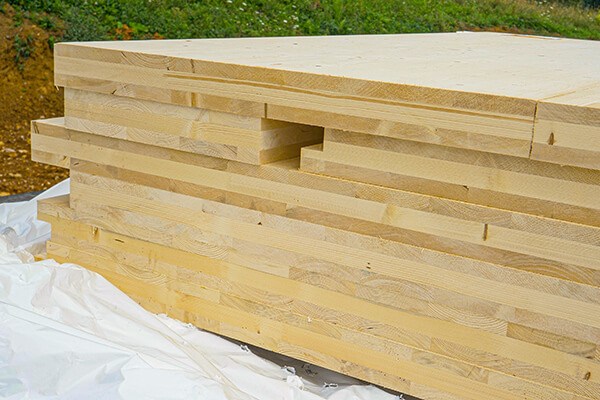 CLT, or cross-laminate timber, is a form of mass timber prefabricated by piling enormous kiln-dried lumber boards in alternating directions. The layers are then fused with structural adhesives. The resulting material is relatively lightweight but incredibly strong and structurally resilient.
How Is CLT Used in Offsite Construction?
Offsite construction has grown in popularity over recent years. This method comprises moving operations away from the property and into a controlled factory setting.
Obtaining enough timber for cross-laminate timber requires streamlined forestry processes and advanced equipment. For instance, skidders use heavy-duty attachments to grab several trees and transport them to another location, where they are loaded on a truck and taken to a factory.
The actual manufacturing of CLT occurs offsite, where people modulate materials into the correct sizes and formations, haul them to the residential or commercial site and put them together. In some situations, factory workers partially assemble individual components before arriving at the property.
There are several reasons modular construction is a growing trend in residential structures, health care, office buildings and other commercial properties. Some of the advantages include:
Enhanced manufacturing precision with greater quality-control assurance.
More cost-effective operations due to reduced material waste and production mistakes.
Improved working conditions with less risk of injuries.
Less environmental degradation — water, land and noise pollution — near the site.
Fewer delays in the project timeline and the ability to work despite poor weather conditions.
Currently, the U.S. is facing an ongoing labor shortage, delayed supply chain and rising inflation across all industries following the COVID-19 pandemic. Construction in particular is grappling with the effects of fewer workers to meet project demands.
According to the Associated Builders and Contractors, the U.S. is down 650,000 skilled construction workers in 2022 and will need an additional 590,000 in 2023.
The Importance of CLT for Sustainable Construction
Traditionally, the construction industry has been a driving force behind environmental degradation and carbon emissions. While the sector has found ways to improve its practices, they're meeting the challenges of climate change with more significant sustainability lags.
In 2019, the construction industry was responsible for 38% of the global carbon emissions — the highest level of emissions ever recorded for the building sector. To reach net zero, the International Energy Agency suggests new construction must reduce its emissions by 50% — or 6% per year — by 2030.
The primary reason this sector has struggled to reduce emissions is partly due to the prevalence of concrete. Concrete produces 8% of global emissions and is the most commonly used construction material worldwide.
Making concrete entails mixing sand and gravel with cement and whisking it with water until it's ready to be poured into a mold. However, this initial step gives cement its colossal carbon footprint, requiring fossil fuels to heat limestone and clay at extremely high temperatures. As a result of heating limestone's calcium carbonate and clay, every one ton of cement emits over 1,000 pounds of carbon dioxide.
Studies have shown using wood in construction can significantly reduce the number of emissions construction produces. In fact, a structure built with CLT averages a 26.5% decrease in global warming potential than ones made with concrete.
CLT-constructed buildings present other environmental benefits than their cement and steel-constructed counterparts. A recent study showed wooden structures are more energy efficient and store significant quantities of carbon dioxide. The Brock Commons Tallwood House at the University of British Columbia in Canada reserves 1,753 metric tons of carbon dioxide in its wood.
Of course, some people may be wary of wood's longevity and durability in construction. Others may be unsure about the ecological impacts of sourcing timber for cross-laminate timber.
Generally, wood has a long product life and can last between 80 and 100 years when used for construction purposes, meaning it can sequester carbon long-term. Regarding deforestation concerns, timber allows for greater reuse and recyclability of materials after its first life cycle, which decreases the need to cut down more trees.
Carving a Path for Cross-Laminate Timber in U.S. Construction
Despite broad use across Europe, CLT has yet to make strides in U.S. construction. However, its production is slowly starting to pick up.
Current building codes limit using cross-laminate timber in buildings not meeting specific square footage or height regulations. Before these standards undergo modifications to allow CLT, the engineered material must pass several safety tests to guarantee its performance against fire and earthquakes.
As of April 2019, the Washington State Building Code Council approves the use of mass timber for buildings up to 18 stories high. The International Code Council also planned to implement 14 new building code proposals for tall-wood construction in 2021. Today, there are only two CLT production facilities in the U.S., with more underway.
Cross-Laminate Timber Is Changing the Future of Construction
CLT delivers an opportunity for a more sustainable construction sector. As building codes are revised and off-site construction becomes the norm, cross-laminate timber could make up more infrastructure.
Learn More About Cross-Laminate Timber Projects
Central Virginia start-up Apex Clean Energy was growing fast, and they wanted a facility to accommodate the company's 200+ renewable energy experts in downtown Charlottesville. They reached out to the architectural firm William McDonough & Partners to design a building that would encourage collaboration, health, and well-being, with an emphasis on a low carbon footprint and healthy building materials. The result is Apex Plaza, the largest Mass Timber building on the East Coast.
Constructing an observation tower for the city of Radford gave Virginia Tech students a unique hands-on learning opportunity. Commissioned in 2018, the New River Train Observation Tower project challenged graduate architecture and design students to source, design, and build an environmentally-friendly, handicap-accessible modular structure for public use. The clients were the City of Radford, the Radford Heritage Foundation, and the Glencoe Museum, and the purpose was to highlight the region's train history by giving visitors a dramatic view of the old Norfolk Southern Rail line.
Don't Miss Our Upcoming Events!
Join the leading companies and professionals from across the offsite construction industry at each of this year's Offsite Construction Network in-person events. With events taking place across North America in 2023, it's never been easier to connect with and learn from offsite construction manufacturers, designers, builders, and suppliers from the United States and Canada.