The Offsite Construction Expo Brings Ideas, Opportunities to Toronto
An exclusive article from the Offsite Construction Network
Joined by speakers and exhibitors from across the offsite construction industry, nearly 150 attendees gathered for the Offsite Construction Expo in Toronto, ON. Hosted by the Westin Harbour Castle in the beautiful Harbourfront district of the city and presented by the Offsite Construction Network and the Modular Building Institute, the Expo offered a full day of invaluable networking and education around the methods and benefits of modular and offsite construction.
Offsite Industry Speakers & Exhibitors from Across North America
The speaker line-up included modular architects, manufacturers, and industry experts from a variety of companies. Ludovick Gauvin, director of prefabricated technical buildings at SM Construction, started the day by showing how modular construction was crucial to the success of Grise Fjord Power Plant project. Tasked with replacing an aging diesel-burned station near the Arctic Circle with a greener, more reliable facility in only a few months, SM Construction was able to quickly build and deliver a modular-built station on-time and on-budget.
"I was thrilled to present at the Offsite Construction Expo," said Gauvin, "because it offered a unique platform to showcase the transformative potential of modular construction, using the Grise Fjord power plant project as a prime example. It was an exceptional opportunity to engage with industry experts, exchange ideas, and contribute to the evolution of construction practices."
Gilbert Trudeau, CEO at RCM Modular, then presented a detailed summary of the ins and outs of operating a modular building factory and how manufacturers can work successfully with the all the other stakeholders in a modular construction project.
Albert Bendersky, vice president of design at BECC Modular, then spoke the fundamentals of volumetric modular design, followed by presentations from NRB Modular Solutions and Montgomery Sisam Architects on the application of passive house standards in multifamily building design, from Stack Modular on how modular projects get built offshore, and from Brave Control Solutions on the industrialization and modernization of the greater construction industry.
In addition to the speakers, the Offsite Construction Network's Toronto Expo featured nearly two dozen exhibitors, including ANC, BECC Modular, CertainTeed, Combilift, Dyck's, Dietrich's, GLP Canada, Johns Manville, Lindapter, Ectek Building Materials, the Modular Building Institute, NRB Modular Solutions, RCM Modular Solutions, Rockwool, RPW Modular Roofing Solutions, Sika, Simple Life Homes, Soukup, Stack Modular, and Transhield.
The Need for Offsite Construction in Toronto
Overall, the Toronto Expo encapsulated a complete discussion of the processes and benefits of modular and offsite construction. And the venue and timing couldn't have been more appropriate.
The city of Toronto has long been challenged with the need for more housing, and with the recent support of the Canadian Mortgage Housing Corporation's Rapid Housing Initiative, modular housing developments have become much more common. Many of the Expo attendees came to learn more about further opportunities for modular housing.
"Toronto has a housing and homelessness crisis in 2023 because of a huge deficit of appropriate supportive, transitional, and affordable apartments," said attendee and volunteer technical lead of HousingNowTO.com. "Our volunteers were fortunate to attend the Offsite Construction Expo – to learn from design, fabrication, and construction experts – and meet vendors who are rapidly delivering affordable housing solutions for other municipalities around North America. It was an excellent mix of innovation, education, and inspiration – we would encourage other organizations in the affordable housing ecosystem to join us at future events."
Toronto mayoral candidate Chloe Brown was also in attendance to learn more about modular's potential in the city. "By harnessing the potential of modular techniques," she said, "we can effectively transition from theoretical concepts to practical implementation. Adopting modular construction practices opens up fresh avenues for cooperation and collaboration among contractors, facilitating cooperative business growth and the sharing of resources. This approach addresses the growing demand for housing solutions to tackle urgent social needs while simultaneously empowering workers and fostering economic cooperation."
With enthusiasm and engagement throughout the day, the Offsite Construction Network's first event in Toronto felt entirely too short. "It was a fantastic event," said executive director Tom Hardiman. "There's so much excitement for modular construction in Toronto, it was great to help connect the attendees with these industry leaders right in their own backyard."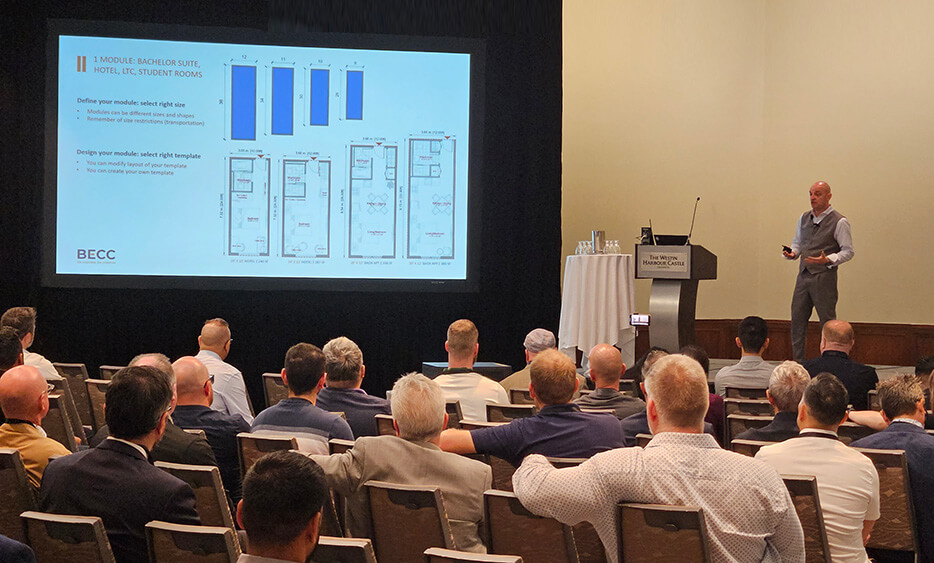 Albert Bendersky of BECC Modular shared insights into successful design for modular building projects.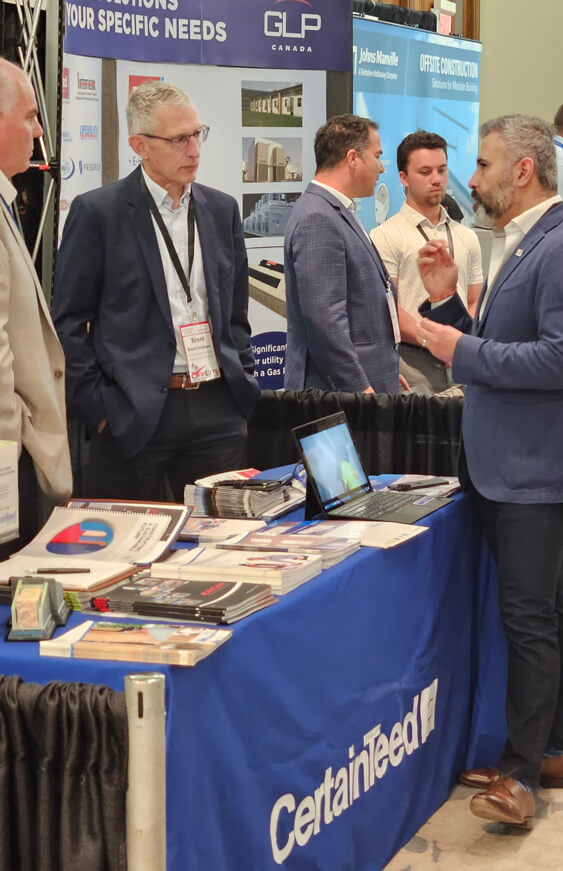 CertainTeed, GLP Canada, and Johns Manville exhibited at the event.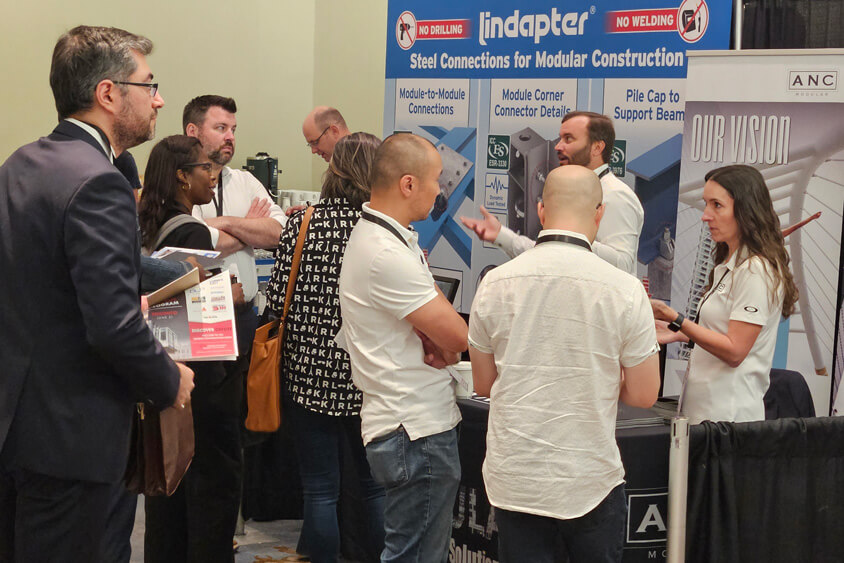 Lindapter and ANC were also among the nearly two dozen exhibitors.
Three more Offsite Construction Expos are planned for 2023. The next will take place in Denver, CO, on September 14, followed by an event in Berkeley, CA, on October 18. The final Expo in 2023 will be in Atlanta, GA, on November 15.
"I can't wait for these next Expos," said Hardiman. "We've designed these shows to be regional, and I know Colorado, California, and Georgia are all facing building challenges of different sorts. These upcoming shows should be really beneficial."
Learn more about the upcoming Offsite Construction Expos at offsiteconstructionnetwork.com/events.
About the Author: John McMullen is the marketing director for the Offsite Construction Network. You can reach him at mcmullen@hardimanwilliams.com.
Don't Miss Our Upcoming Events!
Join the leading companies and professionals from across the offsite construction industry at each of this year's Offsite Construction Network in-person events. With events taking place across North America in 2023, it's never been easier to connect with and learn from offsite construction manufacturers, designers, builders, and suppliers from the United States and Canada.