Panelized Buiding Systems
Not every situation is an ideal match for panelized building systems. However, this building technique may be a compelling answer for builders seeking to do more with reduced labor, smaller budgets and timelines, and a general industrial environment that's still recovering from recent supply and demand shocks. Here's what panelized building offers the commercial, residential and industrial construction sectors.
What Are Panelized Building Systems?
Panel building systems are a type of offsite construction. It's different from onsite wood or metal framing, in which all the materials required to raise a building are trucked to the site and assembled there, one component at a time.
In contrast, offsite building involves fabricating large wall panels or modules in controlled, indoor conditions. These modules are then shipped to the building site, set in place, and joined with the others.
From the Structural Insulated Panel Association:
Structural insulated panels (SIPs) are a high-performance building system for residential and light commercial construction. The panels consist of an insulating foam core sandwiched between two structural facings, typically oriented strand board (OSB). SIPs are manufactured under factory controlled conditions and can be fabricated to fit nearly any building design. The result is a building system that is extremely strong, energy-efficient and cost-effective.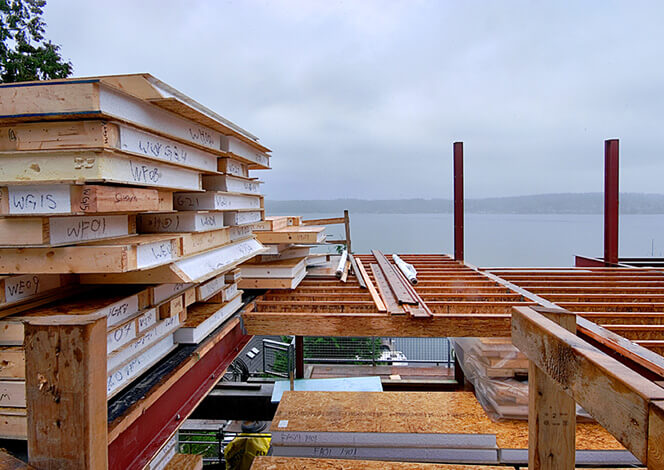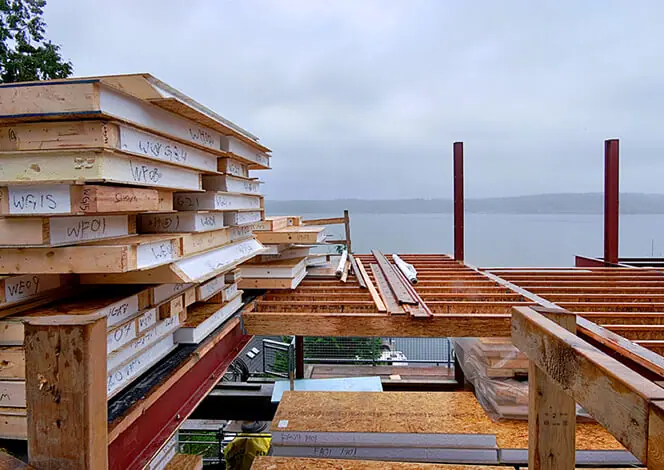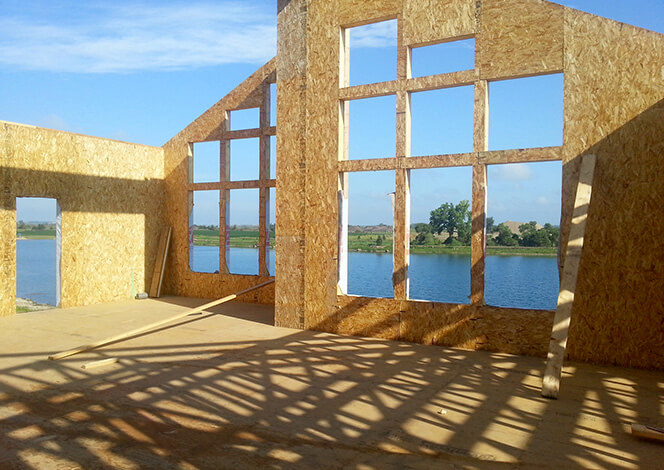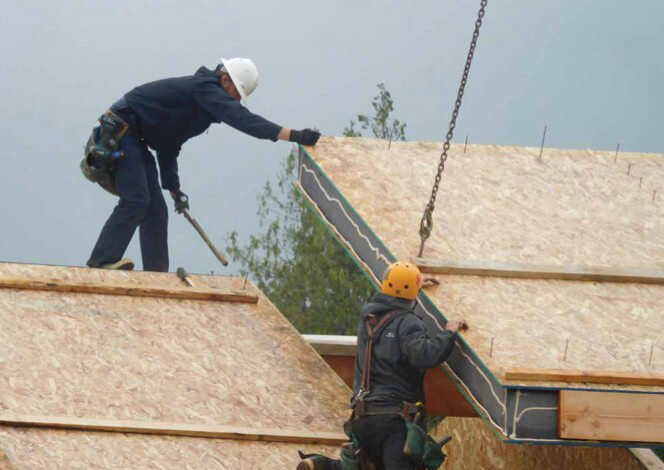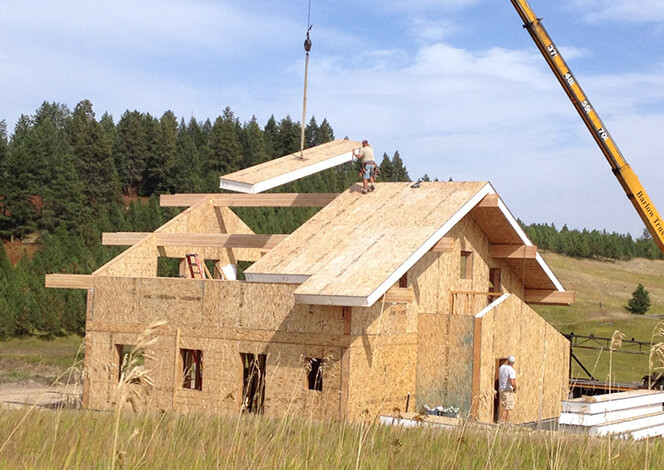 Here, insulated wall and roofing panels—built at an offsite manufacturing facility—are erected and lowered into place during an onsite build.
Photos provided by the Structural Insulated Panels Association.
These aren't mobile homes or relocatable buildings. These types of structures are built and shipped in their entirety. Think of offsite and panelized construction as a partially assembled LEGO product. All the major components are put together, but finishing, joining, plumbing, and electrical work is done once all the modules are connected.
Some of the benefits of offsite and panel building systems include:
Lower costs overall, including labor and materials
Faster construction project turnarounds
More efficient use of materials with lower risks of rework
Greater quality assurance and longer-lasting craftsmanship
How Are Building Panels Created?
Several panelized building systems exist, but each begins by constructing the building's essential structural components--walls floors, and roofing--in a climate-controlled facility.
This build environment is the main advantage. Offsite builders have large, warehouse-like spaces to store raw materials and construct the building's main panels and components.
Within the warehouse, specialists or automated guided vehicles (AGVs) move raw materials from storage to the assembly area. This eliminates the distance and time required to reach the build site, which means less time exposed to the elements and sitting unused in trucks.
The finished panels still require transportation to the final site Once there, they can be incorporated into the structure — often by crane — far more rapidly and with fewer chances of errors.
Building panels and modules can appear in various shapes and formats. The modules may be floor panels, roof panels, roof trusses, entire rooms or hallway sections. Some builders incorporate insulation and weatherproofing into their roof, wall, and ceiling panels before leaving the factory floor.
Each approach to panelized building offers a different experience and set of advantages to suit the project in question. Some modular companies offer complete framing kits using the panelized method, and in some cases, that's all that's needed — the rest of the work is completed traditionally onsite. Other companies offer entire modular building kits for 100% complete buildings and homes.
This is a more versatile technique that yields safer, higher-quality structures. However, property owners and developers may want to talk with multiple providers to understand the creative and practical possibilities.
How Are Building Panels Used?
Once the required number of panels or modules has been assembled, they are inspected for quality, stowed securely for travel, and brought to the construction site.
Building panel systems provide a huge range of creative freedom when designing and building homes and commercial facilities. Constructing or modifying a structure always involves computers but panelizing the construction process unlocks greater collaboration and customization capabilities.
Computer-aided design (CAD) programs can render feature-complete, ready-to-build homes and buildings in far less time than is required to yield a workable model using traditional design languages and techniques. Moreover, it's easier for clients to change the structure's design thanks to the modular and less bespoke nature.
Most importantly, building panels ensure accuracy and efficiency during the build process. Engaging in construction in controlled environments means workers don't need to battle the elements, face pressures to work more quickly or unsafely, or perform work that doesn't meet expectations due to other site-related challenges. The joining and finishing work completed on-site is a much faster process than totally stick-built construction. That means it's easier to work around inclement weather by having the panels and modules delivered on a suitable day.
Not exposing the materials to cold, heat, rain or sunshine is another bonus of building with panels and modules. This means less risk of damage and waste.
What Are the Advantages of Panelized Building Systems?
Panelized building systems share most of the same advantages of off-site construction.
Saving money is the primary motivator for many. For example, replacing a roof using panels is often cheaper than the alternative. Compared to a typical joist-style steel roof, a panelized roofing system might save the owner between $1.25 and $1.50 for every square foot.
The prospect of performing less rework and having fewer materials go missing or get damaged by the elements also brings down the final cost.
Research backs up these claims. The Structural Building Components Association compared stick-built homes to those constructed with a panel system. They found that the panelized home:
Required 26% less lumber than comparable stick-built homes
Resulted in 76% fewer materials going to waste
Used 37% fewer labor hours
Another advantage involves environmental considerations. The transportation emissions plus the time and materials saved make panelized building less wasteful and more energy efficient.
Panel-built buildings are also greener and longer-lasting when their weather-tightness and waterproofing are as robust as can be. Modules and panels can be made watertight much more quickly than a stick-built home, which often comes together under the full deluge of the elements. This makes panelized homes less likely to encounter moisture on day one and throughout their lifetimes, including its harmful effects like mold and mildew.
Building structures that last a long time and fight off premature degradation means reduced demands on the materials and construction industries, ending in vastly lower waste overall.
A Word About Insulation and R-Values
It's worthwhile to briefly discuss insulation and R-values. Prefabricated construction excels at creating homes and buildings that are sealed against the elements and insulated for occupant comfort. What are the practical targets builders should aim for?
R-values measure the amount of climate control provided by a particular insulation product. Energy Star recommends building and homeowners familiarize themselves with climate zones and the recommended R-value for each one. A house in the South will not require the same R-value as one built in the Northeast.
The Department of Energy is actively exploring the influence of prefabricated building techniques, like structural insulated panel (SIP) walls. A wall built using SIPs gives up only around 13.6% of its R-value, while standard 6- and 4-inch stud walls lose 28% and 11% of their insulative qualities, respectively.
The Right Techniques at the Right Time
SIP walls were canonized in the International Residential Code (IRC) in 2007, making them one of the more mature prefabricated products available currently. This is an advisable place to start for builders who want to get into this type of building. The Structural Insulated Panel Association (SIPA) provides several sets of standards regarding the performance of SIPs, including:
Seismic performance
Fire performance
Environmental performance
SIPA also furnishes a list of manufacturers certified in these standards to make the material selection easy for interested parties.
Of course, panelized building systems can't help with everything, including general construction-site mismanagement, poor communication, or lackluster organization. The failure to perform proactive maintenance on essential equipment will set companies back, whether building onsite or on a factory floor. Poor stewardship of tools is a recipe for unplanned downtime.
Some advantages won't apply in every case, while others may vary in magnitude. The conditions at the site, the distance the panels travel, and weather projections are also influential factors.
However, under the right conditions, experts in the prefabricated building industry expect more companies and clients to adopt these techniques. Gene Alhady president of Clark Pacific. sees many larger-scale modular projects in the future, including large capital structures, which can use precast and prefabricated elements repeatedly.
Other benefits are easier to picture with the right data. The United States generates enough construction and demolition waste annually to fill a city street with 4 feet of trash and run it from New York City to Los Angeles six times over.
Colorful images like these help people reckon with their environmental footprints. Most industries measure their carbon and waste outputs in elephants and football fields and round trips to the moon, while panelized building systems represent a saner, safer, and greener alternative.
Learn More About Panelized Building Systems
Located in Los Gatos, CA, the Buchowski Residence was extremely difficult to build due to a multitude of acute wall angels, the structure was designed with very few 90 degree angled walls. Due to this design decision, it was determined this would be a costly build using conventional construction methods.
A start-up called Vantem is committed to addressing the global need of affordable housing with its new "cementitious board" panels and is planning 15 new factories in the US alone.
Located on five wooded acres in the foothills of the Olympic Mountains of Washington State, this hilltop modern craftsman-style cottage was designed by GreenPod Development and KD Structural and built by Piecewurx Construction & Remodeling. The project is designed and sited to maximize natural light and efficiently use cubic footage. 
Don't Miss Our Upcoming Events!
Join the leading companies and professionals from across the offsite construction industry at each of this year's Offsite Construction Network in-person events. With events taking place across North America in 2023, it's never been easier to connect with and learn from offsite construction manufacturers, designers, builders, and suppliers from the United States and Canada.