The Offsite Construction Summit Offers Affordable Housing Ideas, Solutions in Denver
An exclusive article from the Offsite Construction Network
Joined by speakers and exhibitors from across the offsite construction industry, over 220 attendees gathered for the Offsite Construction Summit in Denver, CO, on September 14, 2023. Hosted by the Colorado Convention Center in beautiful downtown Denver and presented by the Offsite Construction Network and the Modular Building Institute, this Summit offered a full day of invaluable networking and discussion about the potential for modular and offsite construction in Colorado and throughout the region.
Offsite Industry Speakers, Exhibitors, and Stakeholders from Colorado and Beyond
The speaker line-up in Denver included offsite construction architects, manufacturers, and a variety of other industry experts. Dean Dalvit, AIA, PE, principal at Texas-based EVstudio, kicked off the day-long event by presenting "Opening the Playbook on Architecture and Engineering Design for Success in Modular Development." The session was aimed at developers of all experience levels and offered critical "dos and don'ts" using case studies as examples for each phase of architecture and engineering in modular construction projects.
"I'm always excited about presenting at these events," said Dalvit, "because it's an opportunity to help advance the industry by sharing our experiences and lessons learned with others. The more we all do that, the stronger the industry continues to become."
Jim Schneider, Executive Director of PCI Institute Mountain States, then took attendees inside the incredible effort to build at the top of Colorado's Pike's Peak using precast concrete. Schneider's presentation, "Pikes Peak Visitor's Center and High Altitude Research Lab," detailed this unique project that utilizes 424 pieces of precast concrete hauled up the mountain from the concrete manufacturer in Colorado Springs.
Kam Valgardson, General Manager of Irontown Modular, then spoke on the advantages that building mid-size modular buildings can bring to manufacturers, followed by a short presentation from John Killingsworth, Associate Professor in Colorado State University's Department of Construction Management on the Modular Building Institute's sponsored research into waste reduction practices in multifamily construction.
Three additional presentations took place in the afternoon. Eric Schaefer, Chief Business Development Officer at Fading West Development and
Bleecker Seaman, President of Fading West Capital Partners, shared the details of what it takes to make an attainable housing project work. Stuart Emmons, Principal at Oregon-based Emmons Design, presented "System Thinking to Increase Affordable Housing." And, finally, Loren Groeschl, Sales Consultant for Premier SIPs, spoke about the advantages of offsite construction versus site-framed building envelope systems.
In addition to the speakers, the Offsite Construction Network's Denver Summit featured over thirty exhibitors, including Barricade Building Products, ISE Structural Engineers, Soukup America, Whitley Manufacturing, MiTek, ICC NTA, LLC, Premier Building Systems: Premier SIPS, FIBO, Synergy Modular, Douglass Colony Group, Palomar Modular Buildings LLC, Rockwool, ROC Modular Inc., Lindapter, Proset Construction, Inc., NRB Modular Solutions, hsbcad North America LLC, Homeway Commercial, Tri-Merit, EVstudio, Simpson Strong-Tie, Johns Manville, LAI Design Group, Guerdon, ProSet, Inc., Wesco Distribution, Inc., Nashua Builders, RW America, Irontown Homes, PFLMEP, Mitsubishi Electric Trane HVAC US, Greenheck, and the Modular Building Institute.
The Need for Offsite Construction in Colorado
With interest in modular, offsite, and prefabricated buildings at an all-time high in Colorado due to the state's significant challenges with affordable and attainable housing, and with the state just recently having passed legislation to allow tiny homes and RVs as permanent residences, the Denver Summit's timing was perfect.
But perhaps more importantly, the Summit allowed for prospective end-users of offsite construction to interact directly with the speakers, exhibitors, and other industry experts in attendance.
"My experience was great," said Dalvit. "I think this was one of the most well-attended [Offsite Construction Summits] I've attended to date and there was a great energy and engagement in the room. I'm looking forward to the next one!"
"The Offsite Summit uniquely and successfully brings all of the stakeholders together into one room, at one time," said Kam Valgardson, General Manager at Irontown Modular. "I can share my message with builders, developers, regulators, finance partners and vendors in one location in an environment where modular is being talked about in an exciting way. The room was full, there was excitement in the air, and I was very pleased to have this opportunity to share my message."
With enthusiasm and engagement throughout the day, the Offsite Construction Network's second event of 2023 exceeded expectations. "It was a fantastic event," said executive director Tom Hardiman. "Offsite and modular construction is booming in Colorado right now. This Summit was a great opportunity to directly connect industry stakeholders and regional end-users."

Over 220 attendees gathered for the Offsite Construction Network's annual Denver Summit in September, 2023.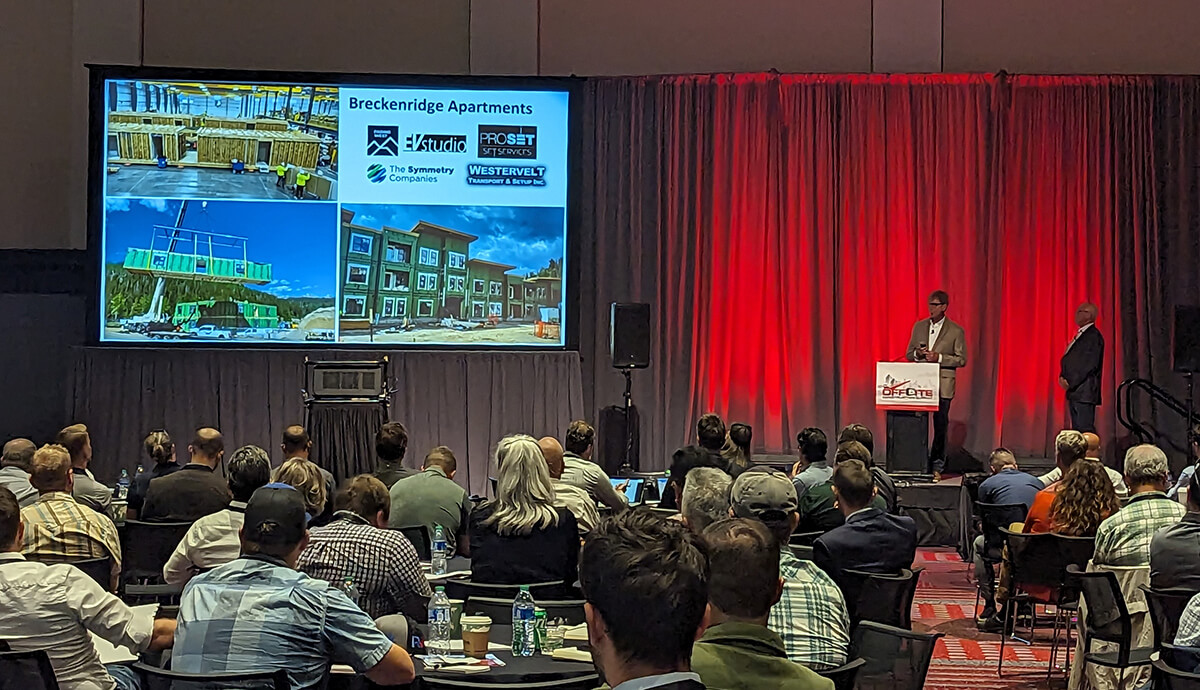 Eric Schaefer from Fading West Development and Bleecker Seaman of Fading West Capital Partners present "It Takes a Village: Building Attainable Modular Housing through Private Public Partnerships."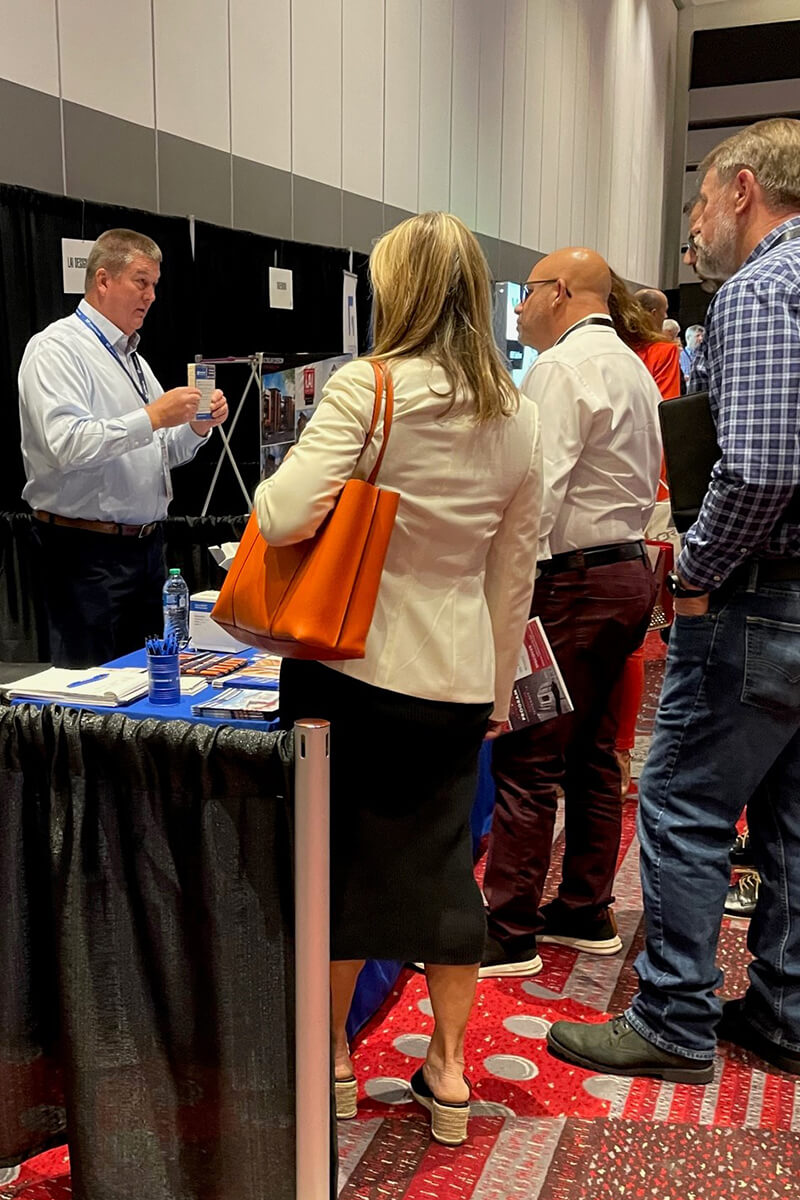 Exhibtor Johns Manville converses with attendees prior to the start of the day's presentations.

Repeat exhibitor Lindapter continues to find value in the Offsite Construction Summits.
More Offsite Construction Network Events in 2023
Two more Offsite Construction Summits are planned for 2023. The next will take place in Berkeley, CA, on October 18. The final Summit of 2023 will be in Atlanta, GA, on November 15.
"I'm very excited for these next two Summits," said Hardiman. "These events are designed to be regional, and I know California and Georgia are both facing housing challenges. These upcoming events should be really beneficial to area stakeholders."
Learn more about the upcoming Offsite Construction Summits at offsiteconstructionnetwork.com/events.
About the Author: John McMullen is the marketing director for the Offsite Construction Network. You can reach him at mcmullen@hardimanwilliams.com.
Don't Miss Our Upcoming Events!
Join the leading companies and professionals from across the offsite construction industry at each of this year's Offsite Construction Network in-person events. With events taking place across North America in 2023, it's never been easier to connect with and learn from offsite construction manufacturers, designers, builders, and suppliers from the United States and Canada.