The Offsite Construction Summit Gathers the Industry in Berkeley to Tackle Housing Crisis
An exclusive article from the Offsite Construction Network
Offsite construction industry stakeholders and potential end-users of all stripes gathered in Berkeley, CA, for the Offsite Construction Summit on October 18, 2023. Hosted by the University of California - Berkeley and presented by the Offsite Construction Network and the Modular Building Institute, this latest Summit offered a full day of invaluable networking and discussion about the potential for modular and offsite construction in California and up and down the West Coast.
Stakeholders New and Old Assemble in Berkeley
Featuring a diverse group of expert industry speakers, the Offsite Construction Summit in Berkeley kicked off with a presentation from Ben Metcalf, Managing Director at the Terner Center for Housing Innovation at UC Berkeley. His presentation, "New Opportunities for Affordable Housing," provided a framework for the day by detailing the current housing environment and the challenges facing those seeking affordable housing in California.
The next speaker, Stuart Emmons of Oregon-based Emmons Design, discussed how to put together a successful, replicable modular affordable housing project. His presentation covered standardization, regulatory constraints, MEP systems integration, panelization, constructability, transport/set, site/factory responsibilities and coordination, and other aspects of modular building delivery.
UrbanBloc CEO Martha Trela then took the stage to expand beyond just the need for housing. In her presentation, Trela addressed the increasing demand for flexible community space, outdoor dining, beer gardens, fast casual restaurants, and shelter for the homeless by sharing a range of case studies from recent shipping container-based building projects.
Three additional presentations took place in the afternoon. The first, featuring ReMo Homes co-founders Vamsi Kumar Kotla and Ryan Blowers, outlined their strategy to creating affordable and durable housing that can meet the changing needs of residents. "At ReMo Homes," said Kotla, "we are inspired by the great business icons who have moved society forward and transformed how we live by their vision. Likewise, our company aims to improve people's lives and circumstances fundamentally. What we are proposing is very ambitious for the industry, but if we collaborate and advocate together, we can be successful."
The final two presentations were given by three noted industry veterans. Nickolos Gomez, principal at architectural firm AO, and Andrew Meagher, VP of Design and Engineering at Factory_OS, discussed the nuances of designing for multifamily modular construction and the impact of factory involvement early in the design process, and they shared tips for creating efficient modular designs. Then Justin Stewart, CEO at Synergy Modular, concluded the presentations with a breakdown of modular building project costs and how other companies can replicate Synergy's proven model for scalable impact.
Besides the speakers, the Offsite Construction Summit also offered a variety of industry exhibitors. In addition to speaking, Kotla and ReMo Homes exhibited at the Berkeley Summit, which turned out to be a great investment for the company. "It was great meeting with peers in the modular industry and exchanging ideas," said Kotla. "We have also met many suppliers and vendors that are critical to the success of our business."
ModCribs, an industry start-up offering an innovative new modular cribbing solution, also exhibited. "It was a great show!" said Amanda Alexander of ModCribs. "I loved the layout. We definitely walked away with some leads today."
In addition, the Offsite Construction Network's Berkeley Summit featured nearly two dozen additional exhibitors, including Blazer Industries, California Modulars, ISE Structural Engineers, Jigsaw Construction, NRB Modular Solutions, Panasonic, Phoenix Modular Elevator, UrbanBloc, Urban Surfaces, Soukup America, MiTek, FIBO, Synergy Modular, Rockwool, Lindapter, Johns Manville, Guerdon, ProSet, Inc., Nashua Builders, and the Modular Building Institute.
With its outstanding line-up of speakers and plenty of time for exhibitors to connect with attendees, the Offsite Construction Network's third event of 2023 offered a welcome return to Berkeley. "It was first class," said Emmons. "I think everyone got a lot out of it."
"It's been a very good day for everyone and I've gotten lots of good feedback so far," said executive director Tom Hardiman. "With offsite construction being such a critical part to finding the solutions needed in California—and really throughout the country—this Summit was a much-needed connection for industry stakeholders. I'm glad we could be here."
One More Offsite Construction Network Summit in 2023
One more Offsite Construction Summit is planned for 2023. It will take place in Atlanta, GA, on November 15.
"This next Summit in Atlanta is going to be great," said Hardiman. "These events are designed to be regional, and I know Georgia is facing housing challenges just like California is. It'll be our first time in Atlanta with this event, but I'm anticipating a very diverse and engaged crowd. I'll see you there!"
Learn more about the upcoming Offsite Construction Summit in Atlanta at offsiteconstructionnetwork.com/atlanta-2023.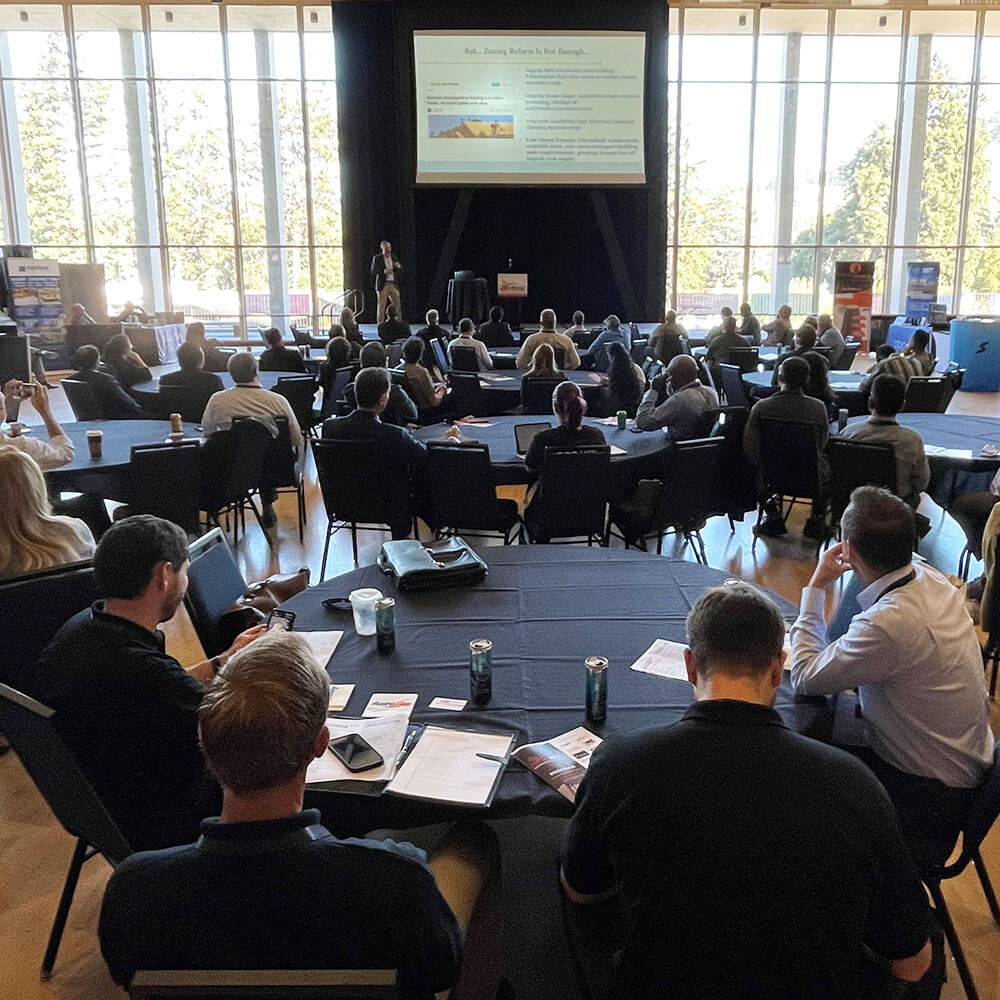 Ben Metcalf, Managing Director of the Terner Center for Housing Innovation at UC Berkeley, presented "New Opportunities for Affordable Housing."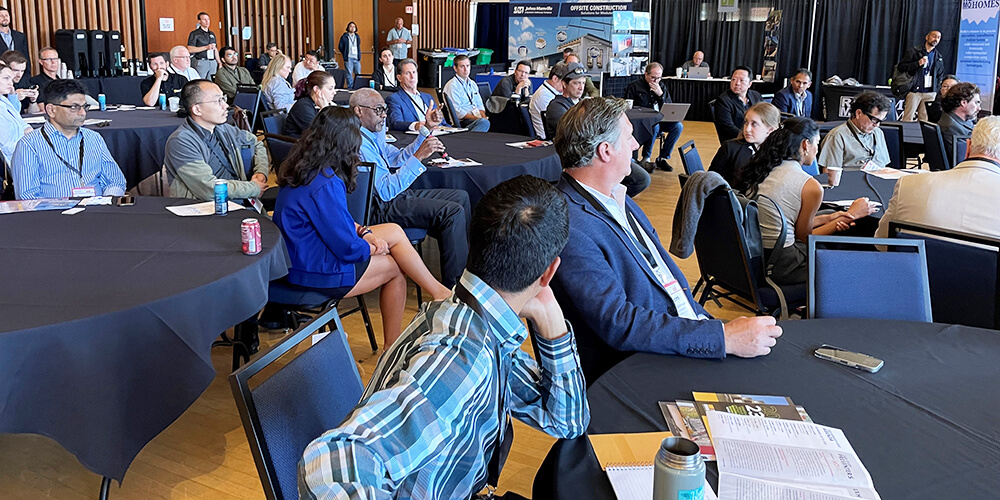 An attendee asks a question during a breakout session Q&A.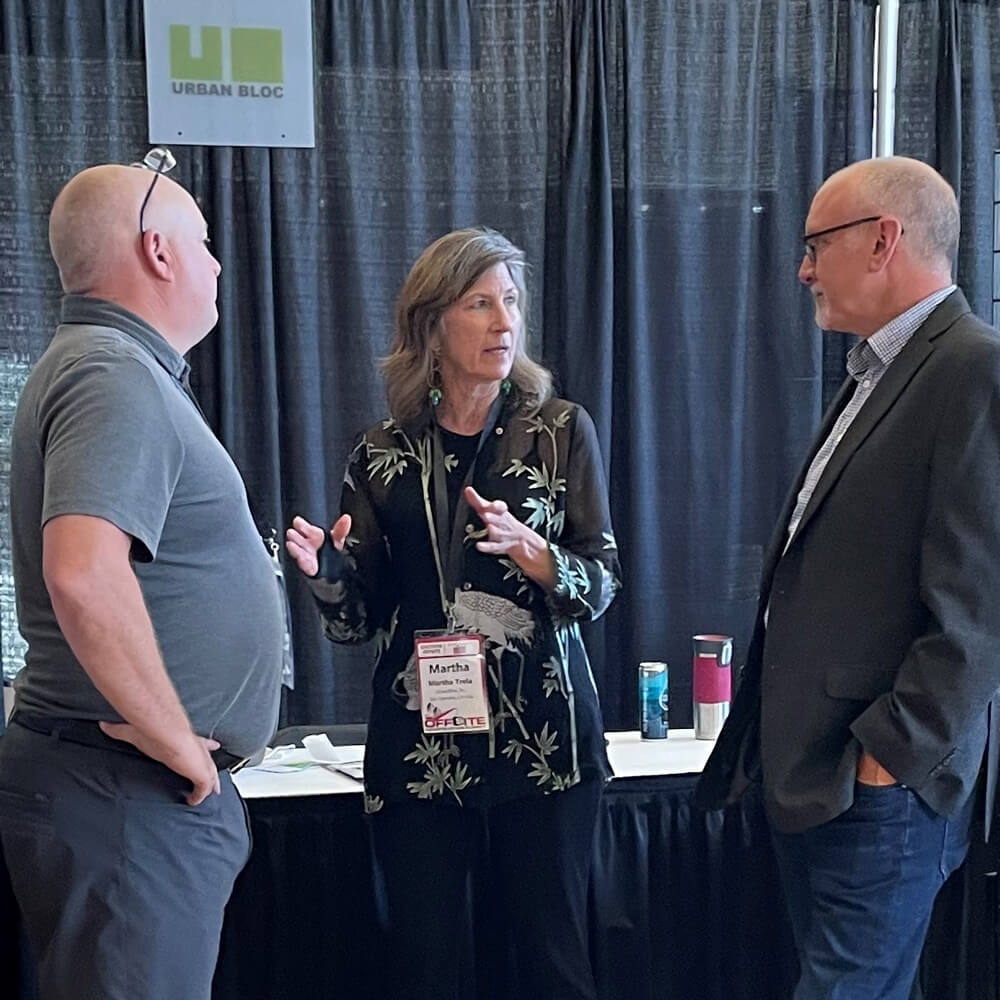 Martha Trela, CEO at UrbanBloc, presented and exhibited at the Berkeley Summit.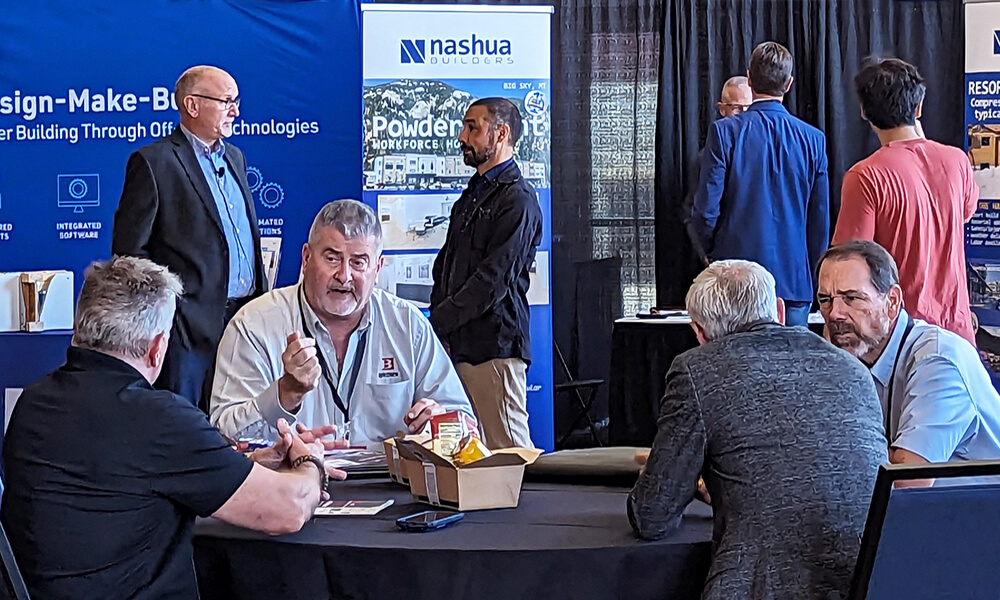 Attendees mingle during one of the Summit's multiple networking opportunities.
About the Author: John McMullen is the marketing director for the Offsite Construction Network. You can reach him at mcmullen@hardimanwilliams.com.
Don't Miss Our Upcoming Events!
Join the leading companies and professionals from across the offsite construction industry at each of next year's Offsite Construction Network in-person events. With events taking place across North America in 2024, it's never been easier to connect with and learn from offsite construction manufacturers, designers, builders, and suppliers from the United States and Canada.
Stay tuned for news about our 2024 events, or subscribe today to get the latest Offsite Construction Network news and events direct to your inbox.