The Offsite Construction Summit: Berkeley Attendees
The Offsite Construction Summit returned to Berkeley, CA, on October 18, 2023, for a full day of presentations and networking with some of the brightest minds and rising stars in the offsite construction industry.
Meet the Region's Offsite Construction Leaders in Berkeley
Following successful events in Toronto and Denver, this Berkeley Summit delivered excellent opportunities for offsite industry networking and education for area stakeholders. Each of our featured speakers brought years of offsite construction experience and knowledge from all corners of the industry, and all attendees were offered valuable time to network and engage with exhibitors and speakers alike.
With nearly 70 companies and organizations—including local and state governments, major universities, and regional housing authorities—represented, this event was an outstanding opportunity to meet and engage with the leading offsite construction stakeholders in and around the California Bay Area.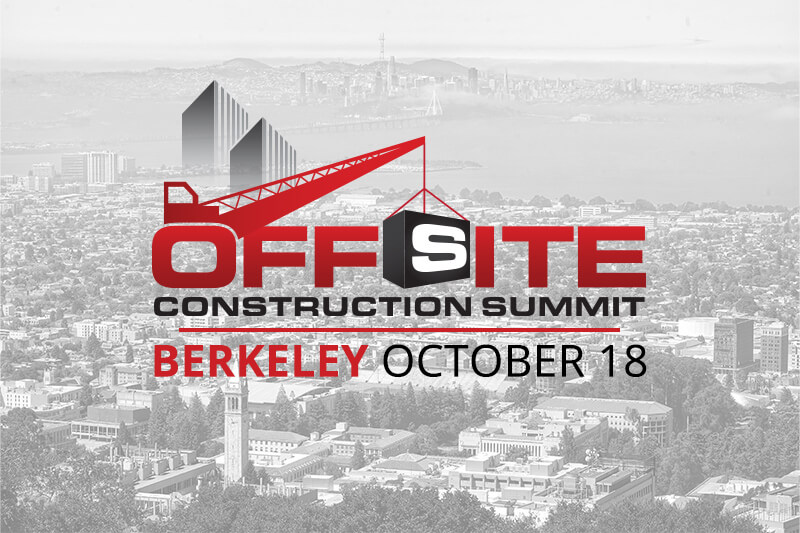 Who Attended the 2023 Berkeley Offsite Construction Summit?
With the explosion of interest in offsite and prefabricated construction, the offsite construction industry across California and throughout the country are being called upon to deliver projects ranging from permanent multistory housing developments to mobile health clinics. This Offsite Construction Summit was the perfect opportunity for end users in and around California to meet the region's leading offsite manufacturers, designers, developers, and suppliers.
Representatives from the following companies and organizations attended, presented, and/or exhibited in Berkeley:
AeroGo, Inc.
AO
Berkeley Housing Authority
Bilt Distrbution
Blazer Industries
Bowers + Kubota
Brown Construction, Inc.
Bundle
California Division of Housing and Community Development
California Modulars
California Polytechnic State University
California State University, Sacramento
Caltech
CSHQA, Inc.
DCI Engineers
Domatic
DreamhomesbySSL
Emmons Design LLC
Fibo
Guangzhou Zhuliu Development
Guerdon
Housing Authority of the City of Alameda
Indie Road Honolulu
Infinipower Hospitality
ISE Structural Engineers
Jigsaw Construction
Johns Manville
Lima One Capital
Lindapter
Lochsa Engineering
Millennium L.A.
MiTek
ModCribs
Modular Building Institute
Modularity
MPE an Englobe company
Newmark
Nashua Builders
Nibbi Brothers
Nor Cal Carpenters Union
NRB Modular Solutions
Ogle Design & Architecture
Panasonic Eco Systems of North America
Panoramic Interests
Phoenix Modular Elevator
Pinnacle Construction
Plant Prefab
ProSet, Inc.
PYATOK architecture + urban design
Quiring General LLC
R3 - Rehabilitation, Restora
ReMo Homes
ROCKWOOL
Santa Clara University
Soukup America
Stanford University
Staqhaus LLC
Statesman Group of Companies
Studio KDA
SummerHill Apartment Communities
Synergy Modular
TAYNR, Inc.
University of California, Berkeley
UrbanBloc, Inc.
Urban Surfaces
US-Offsite Holdings, LLC
Viega