The Offsite Construction Expo is Returning to Berkeley!
The Offsite Construction Network will continue its series of in-person Offsite Construction Expo events in Berkeley, CA in October, 2023. This West Coast-focused Expo will offer all attendees a focused presentation of the abilities of offsite construction across all markets.
The Expo will be a live, one-day, in-person event on October 18, 2023, that will feature presentations and exhibits from offsite construction manufacturers and contractors, traditional contractors that have integrated offsite methods, offsite factories, transportation companies, architects, engineers, BIM suppliers, materials suppliers, and consultants of all types of offsite construction processes.
Registration is Open
There simply is no greater opportunity to reach key partners across the offsite construction industry. Don't miss this chance to connect with leading offsite construction professionals from the West Coast and around the country.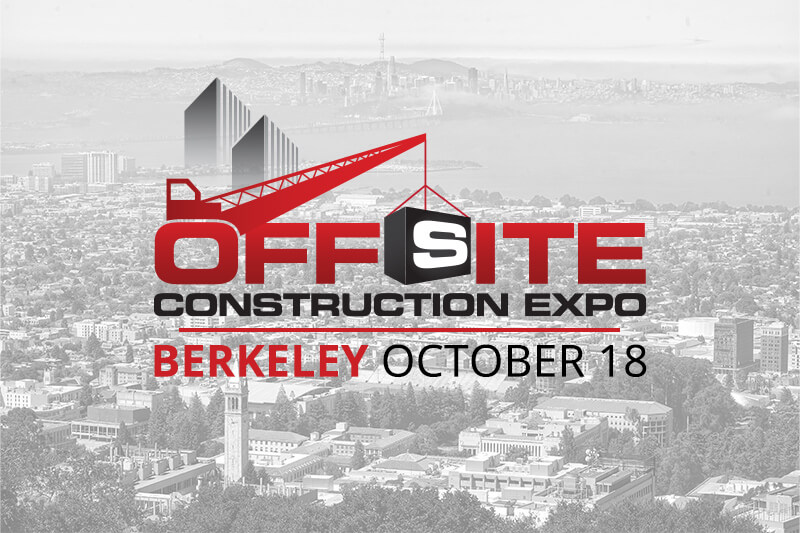 Qualified Attendee
$299
Qualified attendees are architects, engineers, contractors, owners, developers and government officials who specify future construction projects to be built offsite.
Non-Qualified Attendee
$1500
For the purposes of this event, companies that build and sell modular buildings and other forms of offsite construction, or that sell or supply building products and services, are not considered end-users or customers, and thus are 'Non-Qualified Attendees.'
Times and sessions subject to change. Stay tuned for additional speakers, sessions, sponsorship opportunities & more!
9:00AM - 4:00PM Exhibit Hall Open
9:00AM - 10:00AM Exhibits & Coffee
10:00AM - 10:30AM Presentation #1
10:30AM - 11:00AM Presentation #2
11:00AM - 11:15AM Break with Exhibitors
11:15AM - 11:45AM Presentation #3
11:45AM - 12:15PM Presentation #4
12:15PM - 1:15PM Exhibits & Lunch
1:15PM - 1:45PM Presentation #5
1:45PM - 2:15PM Presentation #6
2:15PM - 2:30PM Break with Exhibitors
2:30PM – 3:00PM Presentation 7
3:00PM – 4:00PM Networking Reception with Exhibitors
4:00PM – 5:00PM Exhibitor Teardown
Join Us In Berkeley
The Offsite Construction Expo will be hosted by the ASUC Student Union: Martin Luther King Jr. Building on Wednesday, October 18 in beautiful downtown Berkeley.
ASUC Student Union: Martin Luther King Jr. Building
2495 Bancroft Way
Berkeley, CA 94720