The Offsite Construction Summit Returns to Denver!
Presented by the Offsite Construction Network, the Offsite Construction Summit was live in Denver, CO on September 14, 2023, to offer all attendees:
Superior networking with the leading offsite construction manufacturers, designers, developers, and contractors in and around Colorado,
Informative presentations about the capabilities of offsite construction across all markets, and
Direct access to regional companies and end-users who are embracing the benefits of offsite construction.
Registration is Closed
There simply is no greater opportunity to reach key partners across the offsite construction industry. Don't miss your next chance to connect with leading offsite construction professionals from around the country. See our upcoming events here.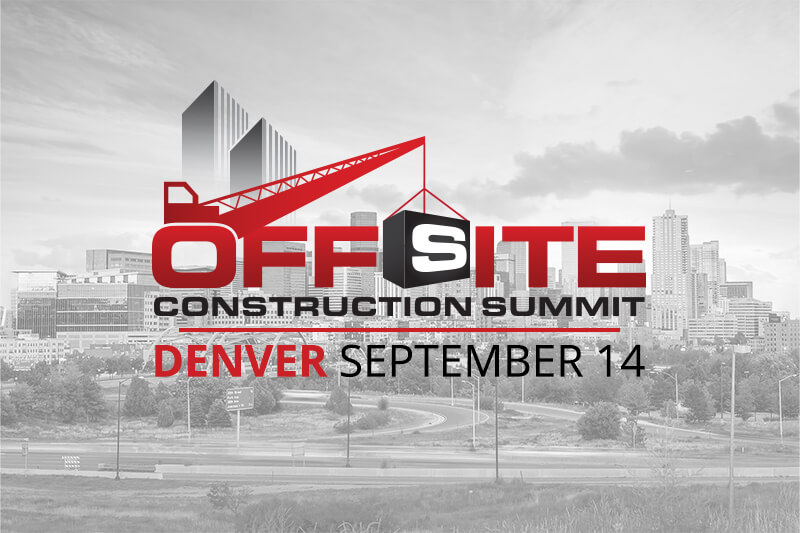 9:00AM - 3:15PM Exhibit Hall Open
9:00AM - 10:00AM Exhibits & Coffee
10:00AM - 10:30AM Presentation #1
10:30AM - 11:00AM Presentation #2
11:00AM - 11:15AM Break with Exhibitors
11:15AM - 11:45AM Presentation #3
11:45AM - 12:15PM Presentation #4
12:15PM - 1:15PM Exhibits & Lunch
1:15PM - 1:45PM Presentation #5
1:45PM - 2:15PM Presentation #6
2:15PM - 3:15PM Networking Reception with Exhibitors
3:15PM - 4:30PM Exhibitor Teardown
Event Recap
Joined by speakers and exhibitors from across the offsite construction industry, over 220 attendees gathered for the Offsite Construction Summit in Denver, CO, on September 14, 2023. Hosted by the Colorado Convention Center in the beautiful downtown Denver and presented by the Offsite Construction Network and the Modular Building Institute, this Summit offered a full day of invaluable networking and discussion about the potential for modular and offsite construction in Colorado and around the region.
The speaker line-up in Denver included offsite construction architects, manufacturers, and a variety of other industry experts.. Dean Dalvit, AIA, PE, principal at Texas-based EVstudio, kicked off the day-long event by presenting "Opening the Playbook on Architecture and Engineering Design for Success in Modular Development" The session was aimed at developers of all experience levels and offered critical "dos and don'ts" using case studies as examples for each phase of architecture and engineering in modular construction projects.