The Offsite Construction Expo Returns to Toronto!
Presented by the Offsite Construction Network, the Offsite Construction Expo was live in Toronto, ON, on June 21, 2023, to offer all attendees:
Superior networking with the leading offsite construction manufacturers, designers, developers, and contractors in Ontario and the northeastern United States,
Informative presentations about the capabilities of offsite construction across all markets, and
Direct access to regional companies and end-users who are embracing the benefits of offsite construction.
Registration is Closed
There simply is no greater opportunity to reach key partners across the offsite construction industry. Don't miss your next chance to connect with leading offsite construction professionals from around North America. See our upcoming events here.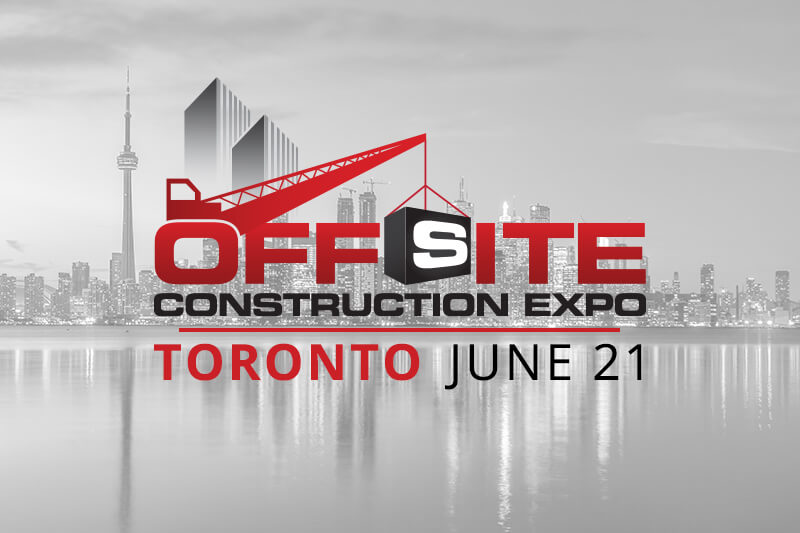 Times and sessions subject to change. Stay tuned for additional speakers, sessions, sponsorship opportunities & more!
9:00AM - 4:00PM Exhibit Hall Open
9:00AM - 10:00AM Exhibits & Coffee
10:00AM - 10:30AM Presentation #1
10:30AM - 11:00AM Presentation #2
11:00AM - 11:15AM Break with Exhibitors
11:15AM - 11:45AM Presentation #3
11:45AM - 12:15PM Presentation #4
12:15PM - 1:15PM Exhibits & Lunch
1:15PM - 1:45PM Presentation #5
1:45PM - 2:15PM Presentation #6
2:15PM – 3:15PM Networking Reception with Exhibitors
3:15PM – 4:30PM Exhibitor Teardown
Event Recap
Joined by speakers and exhibitors from across the offsite construction industry, nearly 150 attendees gathered for the Offsite Construction Expo in Toronto, ON. Hosted by the Westin Harbour Castle in the beautiful Harbourfront district of the city and presented by the Offsite Construction Network and the Modular Building Institute, the Expo offered a full day of invaluable networking and education around the methods and benefits of modular and offsite construction.
The speaker line-up included modular architects, manufacturers, and industry experts from a variety of companies. Ludovick Gauvin, director of prefabricated technical buildings at SM Construction, started the day by showing how modular construction was crucial to the success of Grise Fjord Power Plant project. Tasked with replacing an aging diesel-burned station near the Arctic Circle with a greener, more reliable facility in only a few months, SM Construction was able to quickly build and deliver a modular-built station on-time and on-budget.