The Offsite Construction Summit: Denver Attendees
The Offsite Construction Summit returned to Denver on September 14, 2023, for a full day of presentations from some of the brightest minds and rising stars in the offsite construction industry.
Meet the Region's Offsite Construction Leaders in Denver
Our 2023 Denver Summit was a tremendous success. All of our featured speakers brought years of offsite construction experience and knowledge from all corners of the industry, and every attendee enjoyed valuable time to network and engage with exhibitors and speakers alike.
With attendees of our 2023 event representing 120+ companies and organizations—including local and state governments—this annual Summit was the region's best opportunity to meet and engage with the leading offsite construction stakeholders in and around Colorado.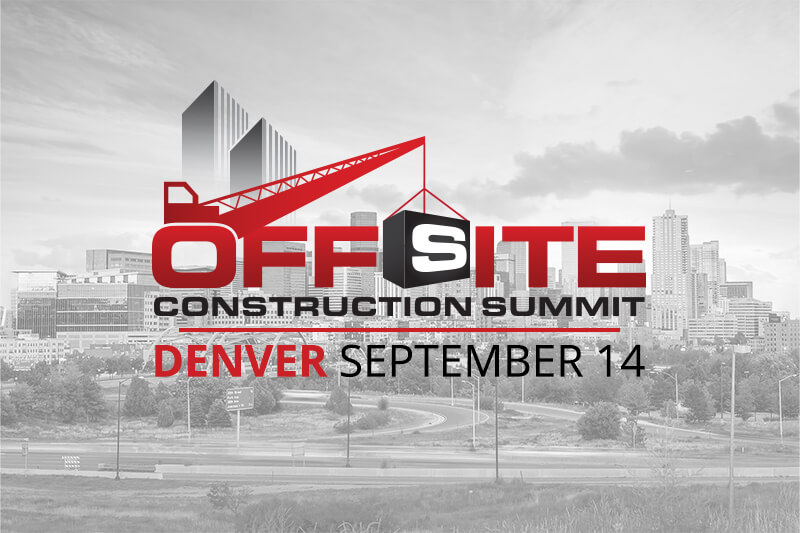 Who Attended the 2023 Denver Offsite Construction Summit?
With the explosion of interest in offsite and prefabricated construction, the offsite construction industry across Colorado and throughout the country are being called upon to deliver projects ranging from permanent multistory housing developments to mobile health clinics. This Offsite Construction Summit is the perfect opportunity for end users in and around Colorado to meet the region's leading offsite manufacturers, designers, developers, and suppliers.
Representatives from the following companies and organizations attended, presented, and/or exhibited in Denver:
359 Design
Adam Berger Development LLC
Adolfson & Peterson Construction
AligntoBuild
Alley Poyner Macchietto Architecture
Alliance Construction Solutions
AMHERST
Andersen Windows
Architectural Innovators, Inc.
ASB Real Estate
Aspen Skiing Company
Barricade Building Products
BKBM Engineers
Bridger Built, LLC
Bristlecone Construction
Brookfield Properties Development
Caltech
Castlewood Partners
Catamount Constructors, Inc.
Circle Stone Capital
City of Boulder
ClarkDietrich
Cobalt Services Group
Color Red Construction
Colorado Builder
Colorado Housing and Finance Authority
Colorado Modular Homes
Colorado State University
CSHQA
Cuningham Group Architecture
DCI Engineers
DORCE Prefabricated and Construction
Douglass Colony Group
Echo Company Constructors
Elevated Industrial Solutions
Emmons Design LLC
Everside Health
EVstudio
Fading West Development
Family Built Homes
Fibo
Flatirons Habitat for Humanity
GE Johnson
Geary Pacific Supply
Grabber
Great White Sand Tiger Lodging Ltd.
Greenheck
Greystar
Guerdon
Habitat for Humanity of the Roaring Fork Valley
Habitat for Humanity of the St. Vrain Valley
Hispanic Contractors of Colorado
Holmes Solutions
Home Builders Association of Metro Denver
Homeway Commercial
Housing Growth Partners
hsbcad North America LLC
ICC NTA, LLC
Innovative Offsite, LLC
Insolroll Inc.
International Code Council
Intertek - Modular Building Solutions
Irontown Homes
ISE Structural Engineers
Johns Manville
King Electrical Manufacturing
Koelbel and Company
LAI Design Group
Langlas & Associates, Inc.
Lindapter
Lokal Homes
MBH Architects
Mill Creek Residential
MiTek
Mitsubishi Electric Trane HVAC US
ModCorr, LLC
ModCribs
Modular Building Institute
Mukwa Expert Inc
Nashua Builders
National Renewable Energy Laboratory
Needbased Inc
Newmark
Nichiha USA, Inc.
NRB Modular Solutions
Pacific Northwest National Laboratory
Palomar Modular Buildings LLC
PCS Group
PGT Trucking
PFLMEP
Plant Prefab
Poulson Construction Inc.
Premier Building Systems
Proset Construction, Inc.
ProSet, Inc.
R&S Tavares Associates, Inc.
RISE Modular
Risinger Build
ROC Modular
ROCKWOOL
RW America
Satellite Shelters, Inc.
Set Works Ltd
Seubert & Associates, inc.
Sherman Associates
Simpson Gumpertz & Heger
Simpson Strong-Tie
Soukup America
Stanley Martin Homes
Sunbelt Modular
Sustainable Living Innovations
Swinerton
Symmetry Builders, Inc.
Synergy Modular
Terrell Development
The Beck Group
The Wells Partnership
Town of Elizabeth, CO
Tri-Merit
UDR, Inc.
US Navy
VaproShield
Venture Architecture
Washington State University
Wesco Distribution, Inc.
Whitley Manufacturing
Zera Developments