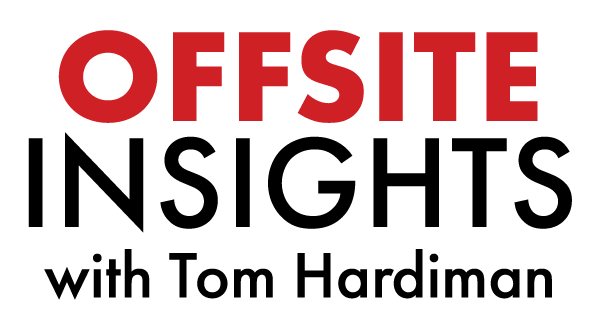 What's New with the ICC: A Conversation with Cindy Davis
An interview with Cindy Davis, President of the International Code Council Board of Directors
Cindy Davis, recently elected to the International Code Council Board of Directors, speaks with Tom Hardiman about her efforts at the ICC and what's coming next for the offsite construction industry.
Cindy is currently the deputy director in the Division of Building & Fire Regulations for the Virginia Department of Housing and Community Development. She also serves on the board of the National Institute of Building Sciences in Washington, D.C.
Tom Hardiman 
Hello, and welcome to Offsite Insights. I'm Tom Hardiman. And I'm so glad to be joined today by Miss Cindy Davis. Cindy is the Deputy Director for the Division of Building and Fire Regulations at the Virginia Department of Housing and Community Development. Cindy, did I get that right?
Cindy Davis 
You did! Yes.
Tom Hardiman 
Okay. Well, how are you doing today, Cindy?
Cindy Davis 
I'm doing well. Thank you. Happy New Year, Tom.
Tom Hardiman 
Oh, Happy New Year to you. And thanks for joining us on this show. Why don't we start off? Why don't you just tell us a little bit about who you are and what your division does in Virginia?
Cindy Davis 
Sure. So the Division of Building and Fire Regulations, as you already indicated, sits within the Department of Housing and Community Development, which is a statewide agency in Virginia that focuses on affordable housing, homelessness, economic development, Main Street programs, and a lot of other things that fit very well, I think, with building and fire codes to keep that balance between safety regulation and affordability.
Tom Hardiman 
That was a couple pretty important topics in there. You hit on affordable housing, homeless economic development. Wow, that's a lot to cover there.
What are some of the more specific challenges you're seeing the state face and maybe as a result of COVID that have been highlighted? Are you seeing anything that the department's really focused on to try to solve?
Cindy Davis 
Thank you for that question, Tom. I think Virginia is not unique in facing the challenge of affordable housing. Virginia Tech and a number of other universities, you may be aware, did a housing study a few years ago called the Housing Policy Advisory Committee Report that indicated the percentage of Virginians that were house-cost burdened and severely house-cost burdened spending 30% and 50%, respectively, of their incomes on housing, which of course then sets up a whole host of other problems, including lack of adequate medical care, food, education and other things.
So affordability has really been a focus of our agency, and we have tried to incorporate new technologies and focus on technologies in ways that that perhaps can be used to reduce that burden.
Tom Hardiman 
Excellent. And one of the reasons we have Cindy on today is the the industrialized building program that oversees modular and offsite construction falls under the Department of Housing and Community Development. And we've been fortunate, I think, as an industry to have a great working relationship with you and your team, and particularly Jeff Brown. So we've really enjoyed just having open, honest conversations about how the industry could help address some of these challenges that you're having. I know recently, you kind of took all of the above approach for housing to include really all forms of offsite. that fair to say?
Cindy Davis 
Yes, yes.
Tom Hardiman 
So I think you've now pulled in containerized housing tiny homes panels modular under the under that umbrella of industrialized construction?
Cindy Davis 
Yes, that's correct. And I think, what we have done to help that along. As you know, humans, in general, don't always embrace change. So when new technologies come along, they're, you know, there's folks that are entrenched and dig their heels in a little bit. They are unfamiliar with the process and with the technologies. And so what we try to do is provide clear guidance to them on how they can use these new technologies. They don't have to say no, they don't have to be skeptical of accepting them. So we do everything that we can to support localities in allowing these new methods of construction.
Tom Hardiman 
Yeah. And as an industry, I know, we appreciate that. We, as you know, we've finalized two new industry standards for offsite construction and Mr. Brown on your team was instrumental in that committee and helping shape those standards. Our little secret is we took large portions of Virginia's industrialized building program to start that standard. We liked your program so much, we thought this ought to be the model for the country. So kudos to you guys for running a great program there.
Cindy Davis 
Well, I happen to agree with you!
Tom Hardiman 
Well there you go. Hard hitting questions here, right? Well, speaking of the program, are there any code changes or regulations and then maybe our viewers might be interested in or we have a clear path in 2022 to get out there and start addressing housing?
Cindy Davis 
So the, you probably are already aware that the 2018 codes in Virginia went into effect last July. So effective date is July 1, with a typical one year grandfathering period. However, what you might not be aware of is almost immediately the board of housing, approved a notice of intended regulatory action. And we have actually already begun the process of updating to the 2021 codes. So that will probably be a couple of years in the making, as it has to follow the Virginia Administrative Process Act. But it is underway.
So I would encourage you, and any of your members or industry folks that are interested in that process, to get on our website, join the code update process, which is all online for us. We've incorporated the national process that uses CDP access for the national codes. We have customized that for Virginia. And we use that to update the codes. So it allows anybody from anywhere to participate, submit proposals, comment on proposals that have been submitted, and participate in the workgroup discussions that we have to take to the board. So, I'll put that out there. And if anybody has any issues or problems in accessing the website or using the software, our staff is always happy to help walk you through those problems.
Tom Hardiman 
Excellent. You mentioned the the national model. You have a new new role this year as the President of the Board of Directors of the International Code Council. Is that correct?
Cindy Davis 
I do. That's correct. Yes.
Tom Hardiman 
You didn't have enough going on, I guess. So, you want to take on the the International Code Council? You're the you're the president this year? What's what's all that's exciting, by the way, congratulations.
Cindy Davis 
Thank you. It is exciting. It's challenging. But it's exciting.
Tom Hardiman 
What's what's on the horizon? What's on your agenda? What's the board working on this year? I know there's always a code development process happening within ICC on one of their codes or multiple codes.
Cindy Davis 
There is yes, and we are getting ready to to kick off the Group B code cycle. And that will start in Rochester, New York. At the end of March, we will have a hearings and then will result in public comment hearings in Louisville in the fall. So that's coming up this year. As far as big picture for ICC, a lot of things are on the horizon. The code process itself, the Board of Directors actually just made changes to the process for the 2024, which will result in the committee hearing a proposal twice before it goes to final committee. So there will be two years of committee hearings. And then a final vote on the membership.
And as a matter of fact, one of the impetus for for requiring that was the standard proposal for offsite construction, where the committee did exactly...your committee did exactly what the code committee told you to do: brought it back as a public comment. And somehow enough questions were raised that people weren't sure if you did what the committee asked her not, because it never had a chance to get back in front of the committee to give it a thumbs up or thumbs down. That proposal ended up failing. So...
Tom Hardiman 
Well, you brought it up. I wasn't gonna bring that up. But I thought, Oh, my goodness, we couldn't get an ICC standard passed with the ICC Council. That was tough. That was tough.
Cindy Davis 
That was a head scratcher for sure. Anyway, I think that we have, I think the new process will fix that. And, and, and, and result in better code, at the end of the day, with the experts have an opportunity to look at the content twice, as opposed to allowing an opportunity for one or two folks to muddy the waters, and then have no way to sort out what's true and what's not true. So, so that change has been made. And I think that's an important one.
Some of the other things that we will be looking at in the coming year are the structure of the organization itself. And it's basically a membership organization. But it's also it's also evolved into a very large business. So is the business structure is the board structure overall the right one for the organization moving forward into the future? Or should we look at a different type of business structure, rather than just members on the board? So that's going to be a big lift. And I don't know that it'll be done this year. But it's a process that nonetheless needs to at least be started.
So, those are the those are the two big items underway. And then, of course, all of the other stuff that is under ICC's umbrella, just the day-to-day business operations will continue.
Tom Hardiman 
So did they wait for your term to say, we're going to change the code development process and maybe change the entire structure of the organization? Let's let Cindy handle that.
Cindy Davis 
Yeah, I don't know. And again, both of those things are pretty big. And luckily, we have some time to develop a very clear process around the change that we made allowing the committee to look at a proposal twice. So we, we have some time to make sure that those processes are in place. And again, the organizational structure is something that I hope the board is going to take a deliberate approach to, and not just do something fast to either dismiss it or put something in place that isn't going to work. I think the board overall is very interested in the success of the future of the organization. The question is, what structure will best serve both the membership and the business aspect of the organization?
Tom Hardiman 
Okay, that's, that's gonna be a big lift for you. Sounds like you have some good people working on it, though. So we'll send you just one kind of final question. What's your best advice for companies in the offsite construction space that might be interested in doing business in Virginia? Just some good common sense advice,
Cindy Davis 
Call me. Call my staff. Truly, DHCD will do everything in their power to help new companies interested in coming to Virginia, whatever problems they're into. We can reach out to our brother and sister agencies, wherever they may be having problems, we can reach out to local jurisdictions, we can help guide the process.
And again, local jurisdictions oftentimes are unfamiliar with offsite construction. And so it becomes it becomes a challenge for them to even know what they're looking at or what to do. Because it's in our wheelhouse, because we develop the regulations, because we understand what they might not be aware of, I think oftentimes we're able to ease the mind at the local level of concerns that they might have or preconceived notions of what offsite construction even is. I think we we still are hung up on that area a lot of times they don't understand it's exactly the same as constructing on site except a different process.
So, again, our agency is there to assist in any way we can, and we're happy to do so.
Tom Hardiman 
Well, I'll testify to that. I know there's been multiple meetings that I've participated in where you have housing and community development and economic development, and you have multi-agency meetings, getting together to solve some of these big problems you talked about. You're right, Virginia is not alone. Housing is affordable housing is a big issue everywhere. And we're hoping that the modular and offsite industry can help put a dent in that be a bigger player in that arena.
So Cindy, we thank you so much for joining us today. And we'll have your contact information there. So if anyone needs to reach out to Cindy, she's available, give her a call. And we thank you for for joining us today, Cindy.
Cindy Davis 
Well, thank you for the opportunity, Tom. I very much appreciate it. And as always, thank you for everything that you do in Virginia to help us. And the invitation remains, if there's anything we can do to reciprocate. Please don't hesitate to reach out.
Tom Hardiman 
Excellent! And good luck on the ICC board this year.
Cindy Davis 
Thank you very much.
Tom Hardiman 
Okay. Thank you, everyone. And we'll be back with another episode of Offsite Insights in the very near future. Thanks!
Don't Miss Our In-Person Events!
Join the leading companies and professionals from across the offsite construction industry at each of this year's Offsite Construction Network in-person events. With events taking place across North America in 2023, it's never been easier to connect with and learn from offsite construction manufacturers, designers, builders, and suppliers from the United States and Canada.