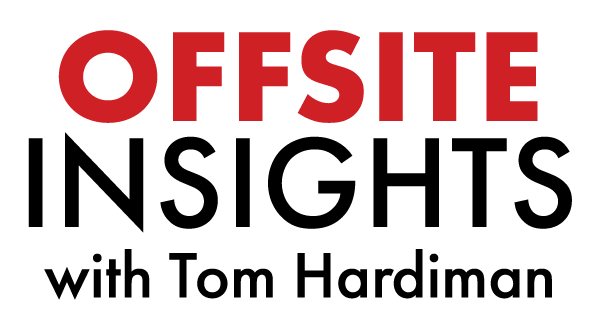 The Importance of Affordable Housing and Giving Back to the Industry
An interview with Amin Irving, Founder, CEO and President of Ginosko Development Company
Amin Irving joins Tom Hardiman to discuss opening his own factory as an owner/developer, the importance of giving back to the offsite industry, and the value of affordable housing for all.
Tom Hardiman 
Hello, and welcome to another edition of Offsite Insights. I'm your host, Tom Hardiman and I'm super excited to be joined today by Mr. Amin Irving, founder, CEO and President of Ginosko Development Company in Michigan. Welcome to the show, Amin. Thanks for joining.
Amin Irving
Thanks for having me.
Tom Hardiman
Okay. Well, I said Michigan, it looks like you got a little snow in the background there.
Amin Irving 
I do. There's a huge snowstorm. I really wish it was warm. Everybody in Michigan, they're lying to you if they say that they love this weather. They like it for maybe a week, but other than that no.
Tom Hardiman 
Well, hopefully it'll get warm soon. It is spring. We're getting close. Well, Amin, I've read your background on your website and I find it absolutely fascinating. I'm sure our listeners will as well. So why don't we start there. Tell us a little bit about your background and I'm particularly interested in what got you interested in real estate.
Amin Irving
Sure. So honestly, I was kind of forced into real estate in 1995. Two months after I graduated from high school, my mom passed away of cancer, and she was a single parent, only child. I was forced to sell my house, my mother's house. The broker thought that we should sell it for $20,000 less than what I thought we could sell it for. We ended up selling it for my price in two weeks. So that's what kind of sparked my real estate bug. I ended up going to a community college for a year, then I transferred to the University of Michigan and got into the business school.
My plan was to become an investment banker in the real estate field. Learn the real estate game, make a whole bunch of money, save that money and start buying real estate for myself. That was my plan. I did become an investment banker in New York. I quickly learned that money didn't buy me happiness. So, I quit my job without any job leads, moved back to the Michigan area, worked for a Medicaid HMO, and it was at the church that I belong to that I met a person that was in the affordable housing industry. That person at the time was an owner, a minority owner, a 10% owner of a of a large real estate development company that was on the brink of insolvency. He had to reinvent himself and he introduced me to the affordable housing industry. I started researching it and fell in love with it. I formed a company in 2002. I closed my first deal in 2005, still working for the HMO, went full time in 2006, then the stock market crashed.
Tom Hardiman 
Right as you're off and running.
Amin Irving 
Yeah, and the only thing that really kept Ginosko afloat was I'm very fiscally prudent. I'm fine with putting debt on real estate, but I'm very cautious about having personal and corporate debt.
Tom Hardiman 
Probably a wise strategy.
Amin Irving 
Yeah. That's really what kept Ginosko afloat during the recession. Fast forward to 2009 when President Obama signed the stimulus bill, that really opened up the floodgates for Ginosko, and ever since then we own I think, currently 37 properties, two pieces of vacant land with a capitalized value of a little under $650 million.
Tom Hardiman 
Okay, you know, we're on the offsite construction, Offsite Insights, where did modular and offsite come into play here? I didn't hear any of that background.
Amin Irving 
That's a great question. So Ginosko Development company is a development arm that really specializes in the creation and preservation of affordable housing. That's really the owner developer arm. My first introduction to modular was in 2006. When I first started, there was a deal where a developer literally did not show up to a closing table. Their partner said, Amin, can you take this deal over? This deal had very, very tight timelines because it had federal money to it. The only way I could get the deal done was if I used a modular product and this was a single-family home rental. The only way I could get those homes online in the timeframe that the federal government wanted was using modular. So, I found a modular manufacturer who just knocked it out the park. From that moment on, I fell in love with modular manufacturing.
However, my core competency is multifamily. I'm not really a single-family home developer owner. For years, I always had in the back of my mind, can I do modular for multifamily housing? I kind of tucked it away for a long time, but about seven years ago, I started saying, we need to get serious with this. I started looking for multifamily modular manufacturers in the Midwest. Either A, they didn't return my call, or there's only one that I knew of. They were still trying to figure it out. They had only done one project, but they were trying to figure it out. They weren't really returning my calls. They called me every now and then, but they don't.
When I googled the situation, you had these modular manufacturers on the West Coast, servicing California, San Francisco. I called them saying, hey, can you service the Midwest? They were like, nope, can't travel that far. Finally, I got to a need and I had a pipeline of deals, where I said, Listen, I really, really want to do this modular thing. That's when we found some amazing people, some MBI members. I'm going to give a shout out to Rick Murdock. He's an amazing man, high quality character and his team, amazing guy. I happen to find Rick and he kind of just took me under his wing and kind of showed me the way.
Tom Hardiman 
Excellent. We interviewed Rick a couple weeks ago for this.
Amin Irving 
Very nice. So yeah, Rick showed me the way and we worked for about five years together, still working together. It culminated into me having my own factory.
Tom Hardiman 
Well, we're going to talk about that. So, good lead in. It's interesting, that modular story, there's so many things that could have gone wrong, that would have probably turned you off. Had that first project not been successful, do you think you would have tried again?
Amin Irving 
No, I would have abandoned it.
Tom Hardiman 
We hear that a lot. Something doesn't go quite right so they abandon the idea of modular altogether. I have to think, well, how many times has something not gone right on a traditional project? You didn't abandon construction. I'm glad to hear it went well on that first one.
Amin Irving 
That's a great point. I would have just because it was in 2006. That was totally new to me and I did it out of desperation. There happened to be just a builder that was just fantastic. I don't even know if they're still in business. I haven't looked them up, but they were great.
Tom Hardiman 
Interesting that your entry into multifamily is very similar to the whole modular construction industry's entry into multifamily. I've been around about 20 years. Multifamily projects were very uncommon before 2010 and maybe even before 2015. It wasn't until recently that more and more multifamily projects came online to the point now, last year, it is the largest market for the modular construction industry. So, it's really taken off in the last six, seven years.
Amin Irving 
Yeah. As an owner developer, you're looking at rising interest rates. You're looking at these crazy construction costs and you're looking at labor risk as well. In a traditional sense, an owner slash developer is relying on a general contractor who has a group of subs that don't necessarily work for them. I as an owner am demanding that general contractor to give me a bond on the completion of the deal and that general contractor has to rely on all these subcontractors.
As you know, money was loose for a very, very long time. These subcontractors really had their way in terms of picking and choosing the jobs they want, and they still do. The general contractor has his way of pricing a deal the way they want, and then the owner is stuck with these high costs scrambling to try to get the money to make everything right. To please Wall Street and to make the deal work. So, it's difficult. I saw that this time of free and loose money is going to end. For us, it's all about mitigating risk. Being able to control the labor and have some sort of control on material in order to effectuate the deals that we that we have.
Tom Hardiman 
I think that's a great point. Some people say modular offsite construction, that's riskier and I don't think it's riskier. I think it's maybe a different risk, but it's like you say, how do you mitigate that? You now have maybe a tighter schedule that you can control and the labor and so forth. So excellent point. You kind of put something out there and I left it hanging there a bit. Owner developer that's opening a new factory? Tell us a little bit about that.
Amin Irving 
So, the one thing that I've learned is I had to ask myself, or I had to ask myself, why aren't there any modular factories in the Midwest? When I say modular I mean, full 3d volumetric factories. Not just panel, not just the roof. I'm talking about the full kit and caboodle. What I learned was, the risk to start up a factory is very great. If you don't have a general contractor that believes in you, if you don't have an architectural team that believes in you, if you don't have a state agency or a federal agency believing in you and most importantly, you don't have an owner developer believing in you. If I was just looking to build a factory to be a glorified major subcontractor, from my risk aversion, I probably wouldn't do it.
What I think made our approach a lot more palatable was that you have an owner developer that has a pipeline of products to mitigate the risk and to really feed the beast of the factory. So that was really compelling and made, what I believe, makes our business model a little bit unique. It's the fact that we have an owner developer that also owns the factory that can feed the factory. That's a risk. That's a risk profile that was comfortable for myself and my team.
Tom Hardiman 
So that's happening.
Amin Irving 
It's done. We're vertical right now, in the middle of hiring everybody and we're waiting for the equipment to come in.
Tom Hardiman 
Okay, everyone. Did you hear that? Amin is hiring in Michigan.
Amin Irving 
We are. We actually are, We're at 89 employees right now. We're in the middle of hiring. I've tried to keep it kind of quiet, to be honest with you, just because the business model was based on primarily Ginosko's pipeline. We are absolutely happy to service the Midwest. We have deals that are coming off the line first. So, you're going to have to wait probably about eight months to really get serious.
Tom Hardiman 
I like that model. We're seeing a couple more developers go down this path of, it seems like all the modular factories are very busy, COVID didn't slow things down and kind of accelerated our growth. I think there's one out west, one down south and yourself that are saying, I think I'm going to open my factory. I've got enough projects in my own pipeline to make a run of this.
Amin Irving 
Honestly, what I'm seeing that's impressive, is that states are starting to come around. You have Colorado that's giving preference to modular construction. Michigan came out with a pilot program to give preference to modular construction. I think as more owner developers start to see the time savings, cost savings, and just the efficiencies of the whole thing, I think you're going to see a pretty large surge. I mean, we're starting to see it now, but I think it's going to be even greater.
Tom Hardiman 
I think that time savings that quicker occupancies, you know better than anybody, sooner you get those doors open the cash flow starts coming in. These projects suddenly start working using modular when maybe they didn't with convention.
Amin Irving 
One of the things I'm noticing as an owner, is they're very different hats. There's an owner hat, there's a developer hat, a modular manufacturing hat, and there's also an investor hat. I'm technically a fund manager as well. If you have the owner hat on and you start to see the totality of the deal, modular manufacturing when it comes to new construction really becomes a no brainer. One of the reasons why I'm thinking that people just haven't really caught on is because the totality of their development team isn't fully bought in. You have an owner that's looking at numbers, risk and return but you also need your architects to be on board. If your architects are not on board, hang it up. You need a general contractor to be on board. If that GC is a little squirrely, and we've seen GCS that have gotten squirrely because they're scared that they can't charge the fees that they want to. You can talk to a general contractor and kind of open their eyes to how this can really get done. Then like, oh, wait a minute, okay maybe this can work.
Tom Hardiman 
I do think that GC conversation needs to happen more often because there's this perception that if this project goes modular, or panelized, or offsite, that's taking work away from me. If you look at it as there's still a whole lot of sitework that has to be done on any project, no matter how much you build in a factory. If you're now able to do three projects in two years instead of two, let's go for it. Lord knows there's plenty of housing that needs to be built.
Amin Irving 
Absolutely. What we're telling GCS is, there's less risk, there's more reward, there's more profitability, and then the quantity is great.
Tom Hardiman 
That sounds pretty good to me. So, I want to shift gears here a little bit. I know you're on the board of directors for the Modular Building Institute, that nonprofit trade association serving this industry. I've been in the nonprofit management world for really more than 20 years, 25 years or so. What I hear a lot from very good people is just, I don't have time for that Tom, I don't have time to volunteer. Yet here you are the owner, founder and CEO, opening a modular factory and you still find time to volunteer for your industry trade association. Why is that important to you?
Amin Irving 
Yeah. Honestly, I would say you don't have time not to volunteer. If I wasn't involved with MBI, I probably wouldn't be owning and starting a factory. What's wonderful about my participation with MBI, is that not only do you have a wealth of knowledge around you, and I will say this is the one organization where everybody's rooting for each other. Everybody wants to see everybody succeed. You're in a moment of time in the affordable housing industry, where factories want to see other factories succeed because it actually brings credibility to their factory. Then my involvement with MBI opened my eyes up to wow, there are a lot of people that have been doing this for a very long time. It de risked my apprehension, it lessened my apprehension. Now volunteering, not only on the board, but in the in the developer owner council, that stuff is amazing. To share ideas, to talk about things that are concerning all of us and then come up with solutions. If you're trying to get into the modular game, and I'm not saying this to plug MBI I'm saying this from the bottom of my heart, if you're interested in the modular game, or at least want to know more about it, you don't have time not to participate. That's where the knowledge is to mitigate the risk.
Tom Hardiman 
That can be MBIs new commercial, I'm passionate about that. Whatever industry you are in, you should support that industry's trade group or professional group. Architects, engineers, whatever it is, they should give back if for nothing else, the betterment of the industry. Like you say, there's a whole lot of expertise and experience to learn from these groups. So, it ties in exactly with what you said earlier had that first project gone bad, you would have walked away from all modular. I do see that a lot in the offsite space. Everyone's like, come on, I hope you crush that one because that will mean more business for all of us. So that is probably something a little different in our industry than maybe some others. It's cool insight. So you hear that everyone? No reason that you shouldn't be volunteering for your associations.
I was reading your bio and I couldn't help notice that part about as a nine year old, you and your mom were homeless. I mean, is that okay to talk about? I mean, it's out there on your website. You've had a lot to overcome and then having to sell your house. That's a lot of hurdles I would think. What do you think about from that nine year old kid, to where you are now? I mean, what a journey.
Amin Irving 
Yeah. It's funny, I've always wanted to be a real estate developer. I used to build 3d houses, like just draw 3d houses, and then build trucks that said Irving enterprises on it. I was always an entrepreneur at heart. Real estate, real estate development is a profession that I was born to do. It's my passion, it's something that I love. I think about it when I'm bored, I do it when I'm bored. Not to sound too philosophical, but my faith has really driven me and kept me anchored. My mom and I, we were homeless. We lived in this really rundown motel for a while, but she was in between jobs and we didn't have a place to stay. I just remember that experience vividly, but I noticed the difference between the stress that was on my mother and my life, when we were technically homeless, living out of out of this hotel, and sometimes out of the car, then to having a home. It was night and day.
Tom Hardiman 
Just having your own roof over your head.
Amin Irving 
Yeah, yeah. My mom had a doctorate in childhood psychology. So, she kind of knew how to work my brain to keep me on the on the straight and narrow. There's something to be said about quality housing for all and I really do think that modular manufacturing is a huge piece to the puzzle, and providing quality, affordable housing for all.
Tom Hardiman 
I think so too. I'm certainly not under the illusion that modular, tiny homes or manufactured housing is going to solve the housing problem, but I think it's all of the above. I would love to see policymakers really embrace that all the above. What can we do to address housing, get decent housing for everybody? I mean, anybody that's been in any major city lately knows that the homeless problem is off the charts and it just doesn't seem to be getting any better. There doesn't seem to be any talk or solutions being proposed.
Amin Irving 
I just was in DC, and there's a building out there being built for affordable housing. It's $600,000 a unit. No way should an apartment building cost $600,000 a unit for quote, unquote, affordable housing for people that can't pay the rent. So, why is that? That's a problem. If I'm giving you a million dollars of federal money, I want the most out of that federal money. I think what you'll see is that the modular manufacturing industry can help solve the efficiency mandate.
Tom Hardiman 
Yeah. I think, again, I get pretty excited about this industry. I look at all the signs and I think we're going to have to move to an industrialized construction process. The labor shortage, materials, the housing needs. It's all pointing towards a different way of building.
Amin Irving 
Absolutely. Rick said something so impactful to me a long time ago. Rick said, if you wanted to buy a car, you don't have Ford drop off all the materials in your driveway and then have somebody build your car in your driveway. Anything that we were getting, almost everything that we use, everything that we wear, is built in a factory
Tom Hardiman 
Prefabricated, preassembled.
Amin Irving 
Exactly. So why is it that multifamily housing and a lot of other housing have not adapted to how most other industries produce things?
Tom Hardiman 
Yeah, there's so much to unpack and just that. It's a very fragmented construction industry, very rooted in status quo, history and tradition. It's like pushing a boulder up a hill sometimes to get change in this industry, but we're going to keep pushing. Keep pushing that boulder. Amin, I appreciate you joining me today. So, you got the factory almost up and running you're hiring. You got some projects in the pipeline for when you get that thing open. That's exciting.
Amin Irving 
It is. It wouldn't have been possible without your help, Tom. You, Jon, you guys have been wonderful. Anything I can do to help push this thing forward, I'm here for you.
Tom Hardiman 
Well, this interview certainly helps. Let's share the good word to everybody else and get some more developers thinking like you think. All right Amin , thank you for your time and thanks everyone for watching and stay tuned for our next episode.
Don't Miss Our Upcoming Events!
Join the leading companies and professionals from across the offsite construction industry at each of this year's Offsite Construction Network in-person events. With events taking place across North America in 2023, it's never been easier to connect with and learn from offsite construction manufacturers, designers, builders, and suppliers from the United States and Canada.