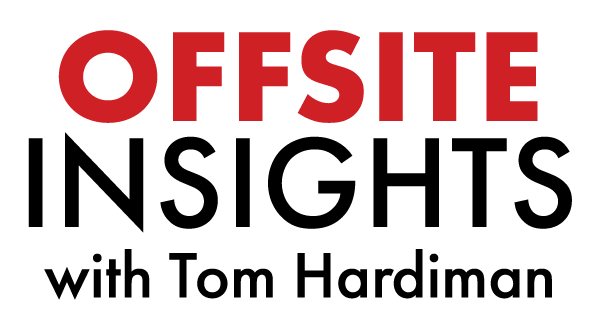 The Future of Mass Timber in the Offsite Construction Industry
An interview with Sandra Lupien, Director of the Mass Timber Program at Michigan State University
Tom Hardiman 00:06
Hello and welcome to another edition of Offsite Insights. I'm your host Tom Hardiman. And before I introduce our guest today, I want to take a minute to acknowledge our sponsor:
USG Structo-Crete Brand structural panels are noncombustible mold moisture termite resistant, dimensionally stable panels for use in sub floor, roof deck or foundation wall assemblies. Structo-Crete Brand structural panels meet the full criteria of ASTME 136. For use in all types of noncombustible construction, numerous one-, two-, and three-hour fire designs are available for modular panelized and conventionally constructed buildings to meet virtually any application. The panels are easily cut with standard framing tools, rapidly applied using mechanical fasteners, and require no adhesives for installation. To learn more, visit https://www.usg.com/structocrete
Okay, well, thank you sponsors. Thank you, USG. I'm excited to have with me today, Sandra Lupien. Am I pronouncing that right Sandra?
Sandra Lupien
Sandra Lupien.
Tom Hardiman
Sandra Lupien, who is the Director of the Mass Timber Program at Michigan State University. Go Spartans. Welcome Sandra.
Sandra Lupien
Go Spartans. Thank you so much, Tom, for having me. It's a pleasure to be here. Yeah,
Tom Hardiman
Thank you. Before we jump into the obvious question—which I'm sure you get 100 times is: What the heck is mass timber?—let's just take a few minutes if you could tell us a little bit about yourself your background. I know you have a background in policy. So maybe we can touch on that and how you ended up at Michigan State?
Sandra Lupien
Thanks, Tom. I again, I'm Sandra Lupien and I direct the mass timber at MSU program at Michigan State University in East Lansing, Michigan. I joined the team here at MSU back in July of 2021. So, I've been here for just under a year. Prior to that I worked for gosh, about 20 years in the nonprofit sector. Then a little bit in local government, primarily for the last 15 years or so on issues related to environmental policy and communications, sustainability, climate change. In 2016, I decided to do a mid-career Master of Public Policy. And that was at UC Berkeley, I was living in California for about 20 years, did a master public policy at UC Berkeley. And while there, I became very interested in what was going on in California's forest lands. This was during a time when there was a historic drought, there were very high temperatures, and that was creating the conditions for bark beetles to infest large swaths of forest land in California, killing hundreds of millions of trees. I learned about this issue, and I thought, wow, as somebody who's interested in climate change policy when a bunch of trees die all at the same time, that creates fuel for very high severity wildfires, the kinds that we're hearing about in California now in the Pacific Northwest, that releases a lot of carbon into the atmosphere.
So, a friend of mine, Sam, and I thought, what can we do with this wood? What can we do with this wood that's just sitting, this dead wood that's sitting in the forest burning and rotting? We started making furniture with that wood, and we had a small furniture company for a short period of time. Then we thought, well making a few pieces of furniture is like a quarter of a spit of the oceans of the world in terms of the scale of the problem here with these dead trees. Also, with just generally forests in California are overly dense due to a long history of forest management policies that's led to overgrowth. So, there's a lot of wood in California forests that needs to be used. There aren't a lot of markets for some of that wood, which is either small diameter or these lower value trees. So, we learned about a product called mass timber and I'll explain what I mean in a minute. We started looking into what does it take to manufacture mass timber in California? We were looking at it from a business perspective and then we were also looking at it from a policy perspective.
I decided to do my Master of Public Policy thesis on how could California remove the barriers to the manufacture and adoption of mass timber in order to achieve benefits related to wildfire protection, climate and carbon resilience and sustainability. So, I did that and became totally obsessed with mass timber and that's what ultimately brought me here.
Tom Hardiman
Well, there's a lot to unpack there. First of all, I just learned about bark beetles. So that's great. I imagine there's a huge opportunity still in California to utilize some of that wood. I mean, everyone's complaining about lumber availability and here you have a state that apparently has an abundance of it that needs to use it. I've spent almost 20 years in the modular construction industry and when people hear modular all kinds of things come to mind. I imagine that's the same with the term mass timber. What are we talking about?
Sandra Lupien
What is this stuff? Yeah, I think people get a lot of different images in their mind, as you said, when I say mass timber, most of the time, people are like, I know what that is. Those are when you take a whole tree, and you use it for like a column or a beam and that's not quite right. That's heavy timber and that was especially popular when we had large amounts of large trees in our forest that you could use the single tree and take advantage of all of the structural properties of a whole tree for part of the structural system of a building.
Mass timber is different in that what we're talking about are panelized, engineered wood building construction materials. Typically, we're talking about very large members, whether they're glue, laminated columns, which I have. Glue, laminated columns, or cross laminated timber panels, which are actually above me in the ceiling, which you can't see right now. These are big materials that are typically used in buildings, not typically single-family housing. They can be but they're usually used in industrial multifamily kind of mixed-use institutional types of buildings that are larger to take advantage of the large format of the materials, and their ability to be used in similar ways to how we use steel or concrete in large buildings to comprise a building structural system. So, mass timber can actually comprise the structural system of a building or can be used in hybrid with other types of materials like steel and concrete. So right now, I'm sitting in a building on the Michigan State University campus. It's called the STEM Teaching and Learning facility and it's the first mass timber structure in the state of Michigan. The structural system of this building uses this glue, laminated timber columns, and also beams made of the same type of material behind me in combination with big cross laminated timber panels, and steel to create the structural system of the building.
So, this is a hybrid system. It's a very beautiful building to be in. So again, mass timber panelized, engineered, big. Also, it tends to be a custom product and it's also prefabricated. So, when you build with mass timber, all of your pieces come to your building site ready to go up and it goes up kind of like an erector set.
Tom Hardiman
Very efficient. So, what would you say are the primary advantages of an end user using mass timber?
Sandra Lupien
Yeah, mass timber became a It was created in Europe about 35 years ago, and then started making its way into the United States, I would say, a dozen years ago or so by way of the Pacific Northwest and Canada. The main driver behind interest in mass timber tends to be an interest in building more sustainably. So, when you build with mass timber, you're building with a product that's made from wood. Wood is a renewable resource. In North America, our forest management practices are such that we're typically growing significantly more wood on our forests than we're harvesting. Many, many, many of our forests are certified by a sustainable forestry certification services like Forest Stewardship Council, or SFI. We know that we can grow forests, manage, and harvest them in sustainable ways.
When we do that and when we use that wood in a long-lived durable product, like mass timber, you build a building that should last for 50, 100, 150, maybe 200 years. When you're using that wood in a long-lived durable product, you're also storing the carbon that was absorbed in forests by trees while they were there. You're storing much of that carbon in the building. So, you're basically extending the ability of wood to store carbon over a really long period of time, which delays the emission of that carbon into the atmosphere whereas we know, it can contribute to climate change.
So basically, from a sustainability perspective, when we think about building with mass timber, we're building with a product that is typically more sustainable to make and transport than other types of building construction materials and that stores carbon in it. That's a very exciting prospect and we're never saying that mass timber is the solution to climate change, but it's part of holistic solutions to climate change that include decarbonizing our built environments. So, it's a very exciting product from that perspective.
Tom Hardiman
Absolutely. I think no one has the answer, but I think we all need to contribute to the solution. So that's excellent. I'm sorry, I interrupted you.
Sandra Lupien
Yeah, holistic approaches win the day, but there's a lot of other benefits to mass timber that are exciting for people depending on which sector they're coming from. So, in the building construction side, people are excited about mass timber because of what I said before, it's a prefabricated product, and it comes to your building site ready to go up. You can save a lot of time on your construction project, when you use mass timber because you're not cutting pieces to size on site. They come ready to go, you're not predrilling the places where your connectors go. You're not drilling the openings for your doors and windows. You're not drilling the openings for your mechanical, electrical, and plumbing. Those are all prefabricated. So, when your mass timber arrives on site, well labeled, you and your construction team can simply stand it up. Then connect it using steel connectors, whatever connectors come from your manufacturer.
So, it's possible to shave significant amounts of time off your project timeline on the build, particularly as more and more construction companies in the United States are experienced in building with this. We will see significant efficiencies in that in that space.
So, definitely faster builds, lighter weight, so you typically need less material, and you can have a less robust foundation. If you're on the west coast, mass timber has very, very strong seismic performance properties and it's for everybody. Mass timber is a very fire-resistant material. So that is very counterintuitive. Everybody always says it's wood, doesn't it burn? The answer is you might think so however, what we find with mass timber is that because of the way it's made, its panelized, it's big. When you do a two-hour fire test on a column like the one behind me or on a cross laminated timber panel, the way the mass timber behaves is that the outside layers will char and actually create a protective layer around the structural layers on the inside. So, if you think about when you make a campfire and you never would put in a whole log because you know that it would char before the interior of the log would ever be able to burn, that's why you split your wood. Whereas timber behaves in a very similar way. What we find is, in fact, it's very fire resilient. It doesn't melt or fail in a fire, typically. So that's very promising research and very exciting for folks who want to build with mass timber. Those are some of the key benefits in the construction side of the equation.
Tom Hardiman
That was a lot of key benefits. So, tell me a little bit about what you do there and what your program does at Michigan State.
Sandra Lupien
Yeah, so mass timber at MSU, that's mass timber at Michigan State University, is a collaboration across our Department of Forestry, our School of Planning, Design and Construction, and then the MSU Extension. We're a land grant university so our mandate is to do research, to teach and to do outreach in the community to share the knowledge that we have. So, my program kind of covers those bases. It's really working to unite forests in the built environment through this like outreach and stakeholder engagement element.
I work with our faculty researchers, as well as with our instructors and professors here to transfer the knowledge that they are creating through their research or developing curriculum out to the end users of that information. We're making sure people have the information that they need to either build with mass timber in Michigan or to start making it here. We are very interested in Michigan and having mass timber manufacturer in the state using Michigan wood and Michigan labor so we can accrue some of those benefits as well. My job essentially is to understand what's going on with mass timber in the state who's building buildings with it, who's considering it, who's building buildings, but they're not talking about mass timber yet. Understanding any barriers they face, understanding opportunities that they see, and really helping to either remove those barriers or harness those opportunities with the resources that MSU as a land grant university can bring to the table.
On the manufacturing side of the equation, same thing, who might be candidates to manufacture mass timber here? What does it look like to put together a team to do that really well? Then helping to connect those stakeholders and parties with resources, whether those are research coming from MSU or maybe incentive programs at our state government level, etc. So that's really what I do.
My program is funded by a couple of state agencies, the Department of Natural Resources and the Department of Agriculture and Rural Development, both of which really see mass timber as a keyway to both execute against our net zero carbon policy at the state, as well as to create rural economic development opportunities and manufacturing job opportunities here in Michigan. Everybody knows in Michigan how to manufacture, we're good at that.
Tom Hardiman 
Yeah, you've done that for a while. We're seeing a lot of that really across this offsite spectrum, modular panelized CLT, that states are starting to realize, we would like to bring manufacturers into our state, hire our local people. Ideally, a lot of states are looking at it to build housing for their own state. So, pieces of the puzzle are starting to come together, it seems like in certain areas. It sounds like Michigan, with your help, it's starting to come together as well.
Sandra Lupien
Yeah, we're really working hard on this. The work began probably in about 2016, around the same time that MSU started talking about, we really want to build this new STEM Teaching and Learning facility. Folks on our faculty in the forestry department saw an opportunity to have the first mass timber building in Michigan here on our campus housing, this state-of-the-art classroom and laboratory facility. So, it was very exciting idea. Obviously, there was some education to do to our administration about what is mass timber? Why do we care? Why would we even want to do this, this is different. Eventually, folks really saw the value in doing so and it's really paid off.
For us to have this building here, it's helped us to just have a place where members of the architecture, engineering and construction industry can come and be inside a mass timber building, see how it all fits together, talk with our faculty members who have experience in construction management to get some technical assistance and guidance about how to approach the project. It's been exciting from that perspective. Lawmakers come through, other community leaders come through and they're like, I really see why this matters.
It makes a huge difference to have somewhere people can see and experience mass timber in action, to move things forward. Now in building with mass timber in Michigan, I'm aware of about two dozen building projects, where they're either definitely going to be building with mass timber where they're thinking about building with mass timber very seriously. That's kind of more than I had expected to see, based on when I arrived, when our building went up. Our building just opened in July of last year. So very new here. But there's a lot of momentum happening here that we're very excited about.
Tom Hardiman
It sounds like it. I think it does help to demystify a little bit if people can come in, see it, touch it and feel it. They need to see it being built sometimes to understand that it's hard to explain with words, but they can see it and touch it. This is real. This can work.
Sandra Lupien
Humans are tactile, right. We just were tactile and we're experiential. We really like to touch and experience the thing in order to understand it deeply. Most of us I think are but, the thing you said about housing with mass timber and modular as well, there's a lot of overlap there. I think both modular and mass timber have the opportunity to speed up the rate at which we're able to get people in homes, right? If we can speed up our construction timelines, that means people can begin to occupy units when we're talking about housing applications of these materials, they can begin to occupy units, they can essentially go home sooner. That's what we need. We clearly have a major housing shortage in the United States all over the country, including here in Michigan, and we need to address it.
Tom Hardiman
Yeah, we have a huge housing problem. We have a construction labor shortage and there just really needs to be more policies in place to encourage, let's call it alternative construction methodologies. Mass timber, modular panelized, all the above. I know here in Virginia they have recently adopted an all of the above approach in their building codes and their programs. So, we need housing. That's accessory dwelling units, modified shipping containers. Bring it on. I think more and more states are going to move in that direction.
Sandra Lupien
I think so too. There's a lot of room for innovation and necessity is the mother of invention, right? That's where we are with housing, I think.
Tom Hardiman
I think it is. We haven't had that pain level, I guess in the past to force us to try something different. I think we're there now so I'm excited to be part of this, call it a movement or whatever we want to call it that change. I'm very excited to be talking to you today and I've learned a lot in this very short amount of time, about mass timber. Anything else you'd like to add that you want our listeners to know about mass timber or your program there?
Sandra Lupien
Yeah, I think it's really important to remember that anytime there's a new technology that comes into a landscape, there's kind of fear of the unknown at first. We've certainly seen that with mass timber, right? In the building construction industry, I think we can see we don't really know how to build with this, we don't really know how to bid a mass timber project. It's different than building a steel and concrete project, in large part because it's a custom product and also, just because there are systems and software's in place that make it very easy to build out the whole system of your building, if you're building in steel or concrete. That doesn't exist yet for mass timber.
So, there's a lot of opportunities for training and education, kind of in the building and costing side of the equation. Also, when we're talking about just building construction and design, one thing that we're very excited about at MSU right now is that we've just received, led by my colleague, Dr. George Burkhardt, he's in our construction management program, he led the process of getting a National Science Foundation grant that's going to enable us to collaborate with universities and colleges all across the United States to develop mass timber design, construction and engineering curriculum that will be designed as modules that educators can drop into their existing design and construction curriculum.
That's going to be I think, an awesome tool to really help mainstream knowledge about what even is mass timber? How do we design with it? How do we build with it? So, people will be coming out of those four-year programs now and community colleges with some knowledge of this material. That will make it much easier for these construction companies to take on projects because they'll have people with knowledge.
Tom Hardiman
That's huge. That's a huge initiative. I hear you, status quo in the construction industry can be extremely difficult to overcome. So anytime you have something new, you get a lot of pushback. We don't want to try that it's different, or we tried in the past and it didn't work. We hear a lot of that. So, I'm glad to see we're not alone out there in this push to try. I only want to say new because it's not a new process, but maybe new to many people here. Many contractors here.
Sandra Lupien
It's not the mainstream yet. When people do build with mass timber, it seems like they want to do it again. I think that is really telling. The project team that built our STEM facility here on campus, neither the architect nor the general contractor nor the erector had ever done a mass timber project before. They said, yeah, we had a learning curve. We figured it out, we all worked together, and we figured it out. Now all three of those entities are seeking actively to do more mass timber projects. They want to lead on mass timber here in the Great Lakes State. They love it and they think it's really exciting. I think once people kind of try it, you'll like it. They feel like, this is something we can really do. We see why to do this. Even they kind of can see for future projects that they will build, those efficiencies that I mentioned earlier. They may be able to reduce project timelines for their clients.
Tom Hardiman
That's excellent to hear they didn't give up because there might have been that learning curve on the first point, or maybe they didn't make as much as they had hoped to. That's great to hear that they got together, they communicated they figured it out.
Sandra Lupien
Now they're a great resource for all of the other industry stakeholders in Michigan that want to build with mass timber.
Tom Hardiman
That is excellent. Well, Sandra, thank you so much for joining us here today. It's been a wealth of information. Where can people go if they want to learn more about your program? Go to your website, I assume.
Sandra Lupien
Yes, you can find our website. This is a little long. It's a c a n r. That's the College of Agriculture and Natural Resources canr.msu.edu/masstimber/.
Tom Hardiman
There you go. Or you can do what I did and just Google your name, and you'll pop up right there. You'll find it. Well thank you so much, Sandra for joining us here today and talking about mass timber and giving us a good education on it. I want to thank our sponsor again USG and hope you all stay tuned for another episode of Offsite Insights. Sandra thank you so much. I appreciate your time today.
Sandra Lupien
Thank you, Tom. It's been a pleasure.
Tom Hardiman
Thank you.
Don't Miss Our Upcoming Events!
Join the leading companies and professionals from across the offsite construction industry at each of this year's Offsite Construction Network in-person events. With events taking place across North America in 2023, it's never been easier to connect with and learn from offsite construction manufacturers, designers, builders, and suppliers from the United States and Canada.