Quantifying Safety in Offsite Construction
N Odo and J Rankin, 2022 IOP Conference Series: Earth Environmental Science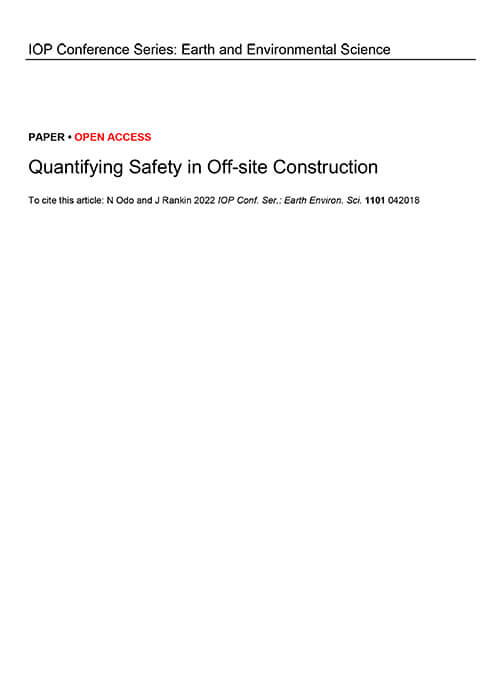 The construction industry is a major contributor to the global economy, yet it is also one of the most dangerous industries to work in. Safety incidents and fatalities in the construction industry are reported in countries around the world, including in the Province of New Brunswick, Canada, where over the past decade, the construction industry has seen 7,194 incidents and 18 fatalities. These numbers are a clear indication of the need for improvement in creating safe working environments for individuals in this industry.
One solution that has emerged is the transition from traditional on-site construction methods to off-site construction methods. Off-site construction refers to the completion of construction activities in a controlled environment, such as a factory or warehouse, before transporting and assembling the completed components on the project site. This method is thought to provide safer work environments by reducing variability in working conditions, but there is a lack of research and data to support these claims.
To learn more about the safety gap between onsite and offsite construction, the researchers, in partnership with WorkSafe New Brunswick, propose a safety evaluation methodology to measure the safety performance of both construction methods. The methodology is based on a risk-based activity-level approach and leverages historical safety data to inform the process analysis of defined construction methods. The methodology was partially validated through collaboration with a local construction project team and applied to a case study of a mid-rise modular hotel construction project that employed a mix of both conventional and off-site construction methods.
The evaluation methodology takes a construction product-focused approach, with a focus on a hotel room module in this case, and defines a complete material supply chain to capture all potential risks. The intended use of the model is to support decision making in the construction industry during the design and planning phases of a project. The development of this evaluation opens up opportunities for future research and comparisons between onsite and offsite construction methods.
Odo and Rankin conclude that the construction industry faces a significant challenge in creating safe working environments for its workers, but their proposed safety evaluation methodology has the potential to make a positive impact. By transitioning construction activities to a controlled environment, offsite construction has the potential to reduce the frequency of safety incidents and fatalities in the construction industry, making it a safer option for workers.
Don't Miss Our Upcoming Events!
Join the leading companies and professionals from across the offsite construction industry at each of this year's Offsite Construction Network in-person events. With events taking place across North America in 2023, it's never been easier to connect with and learn from offsite construction manufacturers, designers, builders, and suppliers from the United States and Canada.