The Offsite Construction Network Returns to Washington, DC!
The Offsite Construction Network presents The Offsite Construction Summit. This event will offer a focused presentation on the abilities of the offsite construction industry to create critically-needed housing: affordable housing, prefab housing, emergency housing, workforce housing, and more.
This Summit will be a one-day, in-person event on August 17, 2022 at the Walter E. Washington Convention Center. It will feature presentations and exhibits from offsite construction manufacturers and contractors, traditional contractors that have integrated offsite methods, offsite factories, transportation companies, architects, engineers, BIM suppliers, materials suppliers, and consultants of all types of offsite construction processes.
Registration Is Closed
There simply is no greater opportunity to reach key partners across the offsite construction industry. Don't miss this chance to connect with leading offsite, modular, and prefab construction professionals on the East Coast.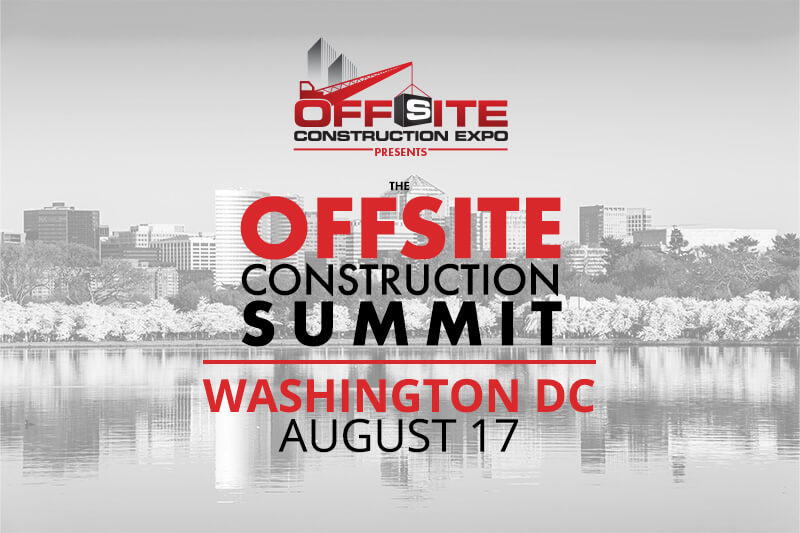 I'm Attending!
$299
Attendees usually include architects, engineers, manufacturers, contractors, owners, developers, and government officials with an interest in offsite construction.
Times and sessions subject to change. Stay tuned for additional speakers, sessions, sponsorship opportunities & more!
9:00AM - 9:30AM Exhibits & Coffee
9:30AM - 10:00AM Presentation 1: Dean Dovolis
10:00AM - 10:30AM Presentation 2: Wanona Satcher
10:30AM - 11:00AM Presentation 3: Tom Argasinski, Greg Oniskey, Rod Frey, Stephen Chesko
11:00AM - 11:15AM Break
11:15AM - 11:45AM Presentation 4: Stuart Emmons
11:45AM - 12:15PM Presentation 5: Alannah Silva
12:15PM - 1:00PM Exhibits & Lunch
1:00PM - 1:30PM Presentation 6: Chris Smith
1:30PM - 2:00PM Presentation 7: Jeff Brown, Chris Thompson
2:00PM - 2:15PM Break
2:15PM - 2:45PM Presentation 8: Ryan Colker
2:45PM - 3:15PM Presentation 9: Jennifer Harper
3:15PM - 3:45PM Exhibits & Beer/Wine
3:45PM - 4:30PM Teardown
Call for Presentations is OPEN
Interested in speaking at the Offsite Construction Summit? Have ideas or experience related to housing? Put your company/project in front of the most influential offsite industry professionals from around the country.
Already Attending?
Share your excitement about the show with these co-marketing materials.
Join Us in Washington, DC
The Offsite Construction Summit will be hosted by the Walter E. Washington Convention Center on August 17 in historic downtown Washington, DC.
Walter E. Washington Convention Center
Room 103 AB
801 Mt Vernon Pl NW,
Washington, DC 20001