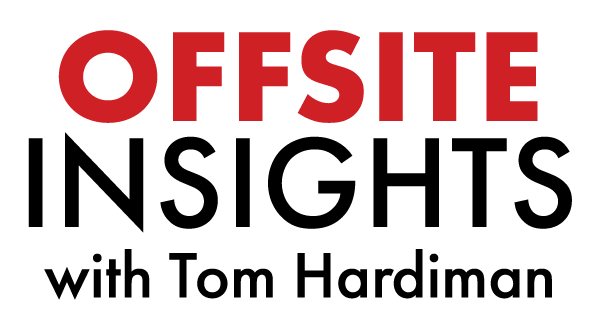 How Brave Control Solutions is Using Automotive Industry Practices in Offsite Construction
An interview with Cooper Lane, Vice President of Brave Control Solutions
Cooper Lane joins Tom Hardiman to discuss how his experience in automotive manufacturing has prepared him for the offsite construction industry. In particular, Cooper discusses how Brave is using flexible automation technology to modernize factories.
Tom Hardiman
I'd like to thank today's sponsor for Offsite Insights, USG Structo-Crete Brand structural panels are noncombustible mold moisture termite resistant, dimensionally stable panels for use and sub floor, roof deck or foundation wall assemblies. Structo-Crete Brand structural panels meet the full criteria of ASTM E 136 for use in all types of noncombustible construction. Numerous one, two and three hour fire designs are available for modular panelized and conventionally constructed buildings to meet virtually any application. The panels are easily cut with standard framing tools, rapidly applied using mechanical fasteners and require no adhesive free installation. To learn more, visit www.usg.com/structocrete.
Hello, and welcome to another edition of Offsite Insights. I'm your host Tom Hardiman and today I am joined by Mr. Cooper Lane from Brave Controls. Cooper, how're you doing today?
Cooper Lane 
Not bad, Tom, how are you doing?
Tom Hardiman 
I'm doing great. Thanks for asking. Hey, Cooper, let's just jump right into it. Why don't you start off by telling us a little bit about your background, who you are and how you got to this role with Brave Controls.
Cooper Lane 
Sounds good. Yeah. So, I'm Cooper Lane, the VP at Brave Control Solutions. I've been with the company now for about three years, but I started working with Brave in a partnership. It was the first project Brave had in offsite construction back in 2018. I've been around manufacturing, I started in automotive. My family has a stamping operation and a tier two stamping operation in Windsor. So, I mean, I grew up on a shop floor. I was running Prague guys when I was, I don't know if I can say this, but I was 12. I think the statute of limitations is passed. So, I've been around manufacturing my entire life. Brave was founded in 2008 and like me their roots are in automotive. It's pretty common in the city that we're from in Windsor, just across from Detroit, the birthplace of the assembly line, Henry Ford and everything else that came with that.
Tom Hardiman 
Yeah, I was going to ask you a little bit about that before we talk about Brave. Maybe what you saw in the automotive industry versus what you see in the modular construction industry, the offsite industry more largely.
Cooper Lane 
Well, that spurs that pretty relevant discussion right now in the industry. I don't know. I mean, my LinkedIn posts focus on that aspect that automotive isn't the answer we don't feel for the offsite construction. I think just as a whole that construction problem, the growing gap in demand and the lagging supply. A lot of people will look to the automotive industry as the answer because of the production rates that they get, the automation, the model fit, the modernization of that industry that's taken place over the last 50 years plus. It's one of the posts that I do have on LinkedIn, it talks about, Henry Ford. He took his assembly line idea from a butcher shop, and he took the concepts of that assembly line and then applied it as they were needed an automotive back then. I think that's more of our viewpoint is that we're using some concepts from automotive.
I just watched the House of Design podcast earlier this morning. Shane talks about the need for flexible automation is where automotive gets off that train. We went through the same process as House of Design. I have sat with House of Design, we talked about those hard knocks that Shane touched on where we went into our first project in 2018. It was a 3D fabricating cell for Z modular. It was fully automated and they have three of the machines still running right now in North America. Like I said, when we were approached with that project, we looked at it through the glasses that we developed over the years, the automotive glasses. We saw that project as an opportunity to provide a little bit of flexibility to the customer. We moved away from static fixtures, so we had dynamic fixtures that can be moved, but the programming architecture was more or less a conventional type of automation where it was going to be a library based kind of system.
The customer gave us a stack of drives. I simplify the process that took place, but the customer for conversations sake gave us a stack of drawings, say 50 drawings. In those 50 drawings, we found roughly 30 variants of chassis that would later fit out into the chassis in the skeletal frame for the module. So, we propose to the customer at the time, what if we give you a library base, like I mentioned, a library-based architecture where we could give you upwards of the ability to expand to roughly 150 different model types. We'll start with these 30 and you can add models as you increase, your different model types. What if we offered you that type of flexibility, so then you have a dynamic fixture that can move, and then you have the ability to pull model 1234, all the way up to whatever you have populated that library with and they liked that idea. So, we're about halfway through building that idea, when our eyes open to the challenge in this industry and why conventional automation is not going to work, because they want another building. That building in those 50 new drawings or 50 new chassis types, we found another 30 variants. We knew that there were going to be variants, but we didn't know that you're going to double your variants on the very next project.
In conventional automation, that means teaching and reteaching robots. It was steel so material drops, material picks, welding, you'd have to physically reteach all those positions. When we saw the prospect of getting 30 new variants every time you win a project, that piece of automation, you'd be just constantly teaching. You'd be teaching positions for robots. So, it was out of necessity came invention and we came up with CAD to FAB. So, CAD to FAB was a proprietary technology that we developed where we can actually program automation, like a CNC machine. So, we take models out of design software, like Revit or whatever it is, you're designing it. Typically, any one of those software platforms, you can create a universal file format, like an igis or step. I'm going to skip the most complex part of this, but we take that model file and we can teach robots to a model file. So really, it's kind of following the methodology of a CNC machine. We're using model files to create, not cutting pass in this instance, it's G code. It's robot code to teach robots in a virtual state. This is a very long answer to that first question.
Tom Hardiman 
That's like the longest answer ever to my first question. It's great. Well, I want to circle back to that in a minute, but you keep saying we, we're talking about Brave Controls. Tell us a little bit about your company. On your site it says, an automation innovation company.
Cooper Lane 
Yes. Like I said, we were founded in 2008. We were in automotive, much like a lot of the automation companies in our area. 2018, this opportunity presented itself and since then we've done a full flip flop on our customer base. We're now 80% offsite construction, 20% automotive, a little bit of a mix in there, some food and beverage and aerospace. We plan on keeping that mix, but now we are primarily an automation integrator, turnkey systems provider in offsite construction.
Tom Hardiman 
So that's obviously a theme we want to hit on a little more. I have kind of framed this industry more as offsite construction and we've really taken that first step. Take the construction site and bring it inside, but there's still largely construction happening indoors. We're not quite to that manufacturing place yet I don't think. Some companies are but as an industry as a whole I think we're somewhere along that continuum of offsite construction, not quite manufacturing. What do you say to people that are just like, this is the way we've always done it, we're happy doing it this way even the modular manufacturers, panelized guys that see automation and robotics even as a little too scary or too much for them. How do you handle that objection?
Cooper Lane 
At this point with the gap that I mentioned before. This gap of doors needed around the world, the housing crisis, all of these factors that really play into the hands of modernization and modernization in an industry that's not taken place to date. Everyone's seen the McKinsey chart that shows a 1.5% decrease in productivity in construction. How are we going to close that gap? There was a conference recently in our area about the housing crisis. The mayor called in a bunch of conventional builders, because we have this housing crisis and now they're going to talk about how they're going to address it. The statement is we need 10,000 more homes. What are you guys going to do about it? The conventional builders answer, who's also making a very good living, says that's impossible. We'll never do that and that's counterintuitive. You're calling the people in not necessarily that have caused this gap, but we're in this position because of that. The conventional builders unless, I shouldn't say unless you do have your labor shortage, you want to address that. There are conventional builders out there making a lot of money. So what is their inspiration to make these changes?
Tom Hardiman 
That's an excellent point. Yeah, they're doing just fine. Thank you very much.
Cooper Lane 
Right. So for us, we want to focus on the people doing offsite construction. Make offsite construction more appealing. One of the things that I talked I think with you Tom, I've talked about I think before, and mentioned it in a couple of posts online as well, is this modular construction or offsite construction? A lot of times somebody says it's cheaper. Some people would be quick to correct like, it's not necessarily cheaper but there's financial benefits to getting a project done faster. Realizing the revenue stream all these things that the benefits that we always talk about for modular construction. For us, it blows our mind that it's not cheaper. If you took a layman view and showed them the chaos of a construction site, then you show them factory, especially anyone that has any kind of manufacturing backgrounds, where do you think this is cheaper? Where do you think this should be cheaper? The answer for anyone with our background, I guess we take it for granted is it's got to be in a factory, this is the controlled environment. If it's a true manufacturing facility, it must be cheaper.
So, then that goes back to what I started saying. If we make it cheaper and faster, I've said this before to other players in this industry, that's the key to Pandora's box. That's that swing from 3% utilization or 5% utilization of offsite construction to 5%. You look at other places in the world, they're pushing 40%. So, we get to that point, then we have them, when they call people in to say, how are we going to tackle this problem? They're going to call on the offsite construction guys because the offsite construction guys are going to say, we have this answer. We see this gap, we know that conventional is not going to tackle this problem because in addition to everything else that's in play, we can't find the labor. Everything that plays into this, the cards are stacked against us until we start to become proper manufacturing facilities. And we know the challenges. That's a huge statement we know, but over time, I think we can get there.
Tom Hardiman 
It is. I'm one of those people that like to pushback when you say it's cheaper, I'm one of those like, hey, hang on, wait a second, wait a second. Not always, not always. Maybe it's because we're not embracing automation, innovation, robotics and more of the manufacturing, lean processes. We're just offsite construction. I do think though, you're right, if we could say and there's a lot of anecdotal evidence that there's cost savings, then there's a lot of variables in that. But boy, if you can get to where it's quantifiably less expensive, faster, same or better quality, etc. what's holding you back now other than I can't find enough factories to do this? Then we get more factories open. So that is a big bold statement, but I think you're right on there. Maybe we're not as cost competitive as we could be, because we're not more fully embracing manufacturing processes.
Cooper Lane 
Yeah and that's what we do, we feel strongly about that. What Shane mentioned, we've been through this, we've gone through these hard knocks and we've installed some very sophisticated pieces of machinery. The product comes off that back end, you're still feeding someone with a tool belt, a measuring tape and a hammer. I'm not saying you're going to eliminate those jobs, but you don't see that in manufacturing facilities. We want to get to a point and it's going to take time, I don't want to sound naive, it's going to take time to get to a point where you are automating, or at least having machines assist those types of things that we're used to seeing day in and day out.
I mean, one of the biggest challenges Shane touched on and I've talked about already, is the lack of flexibility that some of these pieces of equipment offer. We feel that we have a great solution in that I know that House of Design sees that as a problem, they're doing the same thing. If we can give that flexibility, then why aren't we using these pieces of machinery? I know what the answer to that too is.
The first easy answer is capex. It's that big first hurdle, costs a lot of money and you'd ask that question of him as well. That's just a business case. If I know what your budget is and I understand what your current costs are, then we work with whoever our partner is to come up with an ROI based solution. These are parts of the concepts that we bring with us from the industries we've come from. I know ROI is universal across every industry, but in the industries we come from we cannot quote a solution to someone in automotive and aerospace if I'm not showing them a two or three year payback. If I'm doing that with a customer, if I'm showing you this is your capex, but this is your payback, then it's providing that security and making that leap.
Making that leap is the biggest thing that we're coming up to this kind of precipice in the offsite construction industry. I feel this momentum, we're gaining traction, we're starting more and more projects, we're globally sought after. I mean, I'm traveling to the Middle East, I'm all over the world right now, selling this flexible automation idea. I feel like the floodgates are about to open specifically in the North American marketplace because of that underutilization of really the great resource in our region.
Tom Hardiman 
Yeah, I think you're right on there. I've been doing this for almost 20 years and every year, I'm like, this is the year we break through. I really feel like we've got some momentum, we've got some wind at our back. Part of it is there's just such massive housing demand out there, everyone has housing problems. We are not only not putting a dent in it with traditional site built construction, we're falling further behind. So, I think we're finally starting to see policymakers here in North America, particularly the states, open their eyes a little bit about some alternative ways to build whereas in the past, the pain level wasn't there. It was just comfort status quo. We know it's wasteful and inefficient, but we can deal with it. I think you're onto something there with our own manufacturing base. That leap of I'm pretty busy now. I'm doing all right now, I'm financially profitable. Why should I take this leap? If you can make that ROI case, do you think that two to three year typically holds up in our industry as well?
Cooper Lane 
It's a reasonable request from a customer. In automation, we do a lot of the spoke. So, if you give me a budget, I can always find something to modernize your facility, especially in this industry. I mean, there's very little equipment out there right now that you can buy off the shelf. If you give us a budget, we can find something to increase your throughput. I have no doubt.
Tom Hardiman 
There's your challenge industry. I think I asked a similar question with my last few interviewees. If there's any one thing that should be automated, maybe focusing on a modular factory, what's that first piece of equipment every factory ought to be thinking about?
Cooper Lane 
For us, that's a tough question. I mean, that's the number one thing I want to do when we first meet a customer is get on their shop floor. We want to take a look at what their processes currently look like. We do a lot of welding work. So, if you have welding in your repertoire, so if you're a steel builder, welders are hard to find. We've got some great automation around welding. I would start with that, but for us we're not just the welder guys either. We do dimensional wood, mass timber, sit panel, composites, MEP processing storage, kidding, sub-assemblies. So, for me to say there's just one thing, there's so little modernization out there, just let us see your shop floor and we can answer that question.
Tom Hardiman 
Excellent. Excellent. What are you working on these days? What's new and exciting? I think you're in Vegas this weekend, aren't you?
Cooper Lane 
I am in Vegas. We have a great customer out here that we're doing some really innovative stuff for. There'll be more information on that here in the coming months. They are very good at marketing so we will be popping up very shortly. So, with some automation there to really bolster throughput. We are, I want to say, heavily involved right now in trying to secure some work in the Middle East, so neo projects, the neo base projects. Their aggregate demand and their annual demand dwarfs our whole region. There's a lot of opportunity out there and I've been spending some time there. So, there's some good stuff and that's a lot of steel and welding, which is where we got our start. We are doing a lot of work in mass timber as well. So, processing of mass timber, assembly of mass timber. Then, like I said, MEP work as well.
Tom Hardiman 
Okay. I think you mentioned earlier that your company has shifted, you're now 80%, into offsite construction. That was a pretty quick and big shift, wasn't it?
Cooper Lane 
Well, it was 2018 when we got our start and a couple years ago, is when we decided to push all of our chips in. Again, I go back to there's little modernization out there, it wasn't easy, and we fully committed to making this leap. So, getting the sales cycle, to helping partners and new partners make this leap to make these big capex investments, and to really change the way that they're doing things. It's a long process. We come from a group of engineers who hand you a stack of papers, that's your RFQ, you quote it, and the cheapest price wins. This is different. I get calls I would say on a weekly basis, at least one person calls me and says, I want to get into offsite construction. My first question is typically, what's your product? A lot of times, they don't even have that answer. They just see this tremendous opportunity and they want me to tell them what their product should be. I try to help as much as possible, but it's where we are now. We're happy we made the move. If all holds true, it'd be the rest of my career.
Tom Hardiman 
Yeah, I hope so. So that kind of sounds like factories out there, get Cooper on your factory floor. Let him take a look. Let him give you some input. I'm assuming there's kind of this sales pitch, no risk obligation to have him into your factory and take a look and give you some ideas?
Cooper Lane 
Yeah, yeah, I'm happy to. I like meeting new people and I've been meeting a lot of people over the last couple of years. The number one question we ask is, and I'm fairly certain that everyone's going to answer correctly for automation, is if you can make more and you sell more. In this industry, if you're not saying you can sell more, something's wrong.
Tom Hardiman 
So yeah, you need a different salesperson because everyone I've talked to is busier now than they've ever been. It's a great time to be in this industry. You know, one of our challenges has always been, even if we could be 10% or 15%, we don't have enough capacity to build it. Well, not the way we've been building it. That's exactly where you're coming in. There might be enough physical factories out there, but the way you're building it, we're not going to get to 10 or 15, or 20%.
Cooper Lane 
Well, yeah. You're going to want to focus on your efficiency before you start to multiply. I think that there's a lot of meat on that bone.
Tom Hardiman 
I do too and I think you're right. A lot of times we were talking about opening a second plant for some of these companies. It's like that probably isn't the answer. Squeeze more juice out of that first factory first.
Cooper Lane 
We do get that call a lot where somebody wants to talk about opening 10, 15 factories it's like let's do one.
Tom Hardiman 
Yeah, been around long enough to see those. We're going to have 30 factories all across the country, start with one. Pick an area, pick a market. Let's go. Excellent. Well, what else do you want to talk about Cooper? Any parting thoughts before we let you go?
Cooper Lane 
No. I think that I got most of my evangelizing out there. I'm always active on LinkedIn. I'm really excited. We're at a point, and I can speak for the other executive and team members at Brave, we are at a point in our careers where I mean, the name of our company is Brave and actually funny enough, it's named after our owner's kids, Bryson and Avery, but we somehow have become brave. We're in this brave new world and we're excited about what's to come.
Tom Hardiman 
Excellent. Well, we're excited to have you in this industry and Cooper's out there on LinkedIn. He's at conferences, shows, regular speaker events. I'll probably be seeing you in about a month back in Vegas at MBI's event. I'm looking forward to that. Cooper, appreciate you being on today. Cooper Lane from Brave Controls. Thank you so much for your time today, Cooper.
Cooper Lane 
Thanks, Tom. Pleasure.
Don't Miss Our Upcoming Events!
Join the leading companies and professionals from across the offsite construction industry at each of this year's Offsite Construction Network in-person events. With events taking place across North America in 2023, it's never been easier to connect with and learn from offsite construction manufacturers, designers, builders, and suppliers from the United States and Canada.