Huga: Reconstructing the Public's Opinion of Modular Housing
An exclusive article from the Offsite Construction Network
Huga Technology has been in the construction business for nearly a century. The Argentine company is a family business with four generations of experience building residential and commercial units.
Huga specializes in modular building and sustainable housing. It's committed to the customer and the environment, ensuring homeowners can pass down units from generation to generation. Here is Huga's story from architect Italo Martin Schmädke and how the company's passion helps the building industry move forward with modern practices.
Beginning in Modular Building
Huga started 80 years ago when Martin Schmädke's grandfather brought a patent from Italy. Huga got involved in industrial architecture in numerous countries, such as Argentina, Spain and Venezuela, and created more than 9 million square feet of buildings.
The earliest practices of modular housing started to become commonplace when Martin Schmädke's father entered the business. Builders found the benefits of using precast concrete, which is why the family and Huga have become experts in concrete.
Today, Huga works with builders to create modular housing and emphasizes the benefits of this method. Three of the four Martin Schmädke brothers are university professors, with Italo working as a researcher and professor at the Universidad Católica of Córdoba.
Exploring the Benefits of Modular Housing
Modular building is a rising practice in the U.S. and worldwide. Huga takes advantage of these benefits for the client's and the environment's sake.
One of the most significant advantages of modular building is the short timelines. Most of the work takes place in an off-site facility. About 80%-90% of modular construction occurs before it arrives at the client's destination. Once the home transfers to the building site, Martin Schmädke says the only tasks left are leveling the ground and connecting water and utilities.
The U.S. and other countries face a housing shortage. The Great Recession and the recent pandemic have slowed new construction. Modular housing is an excellent way to increase the housing supply. Martin Schmädke says modular homes are ideal for new families, recent college graduates and older parents who want to downsize after their children move out.
Flexibility in Construction
Modular houses are great options for new and older families but provide flexibility for families with kids at home. Homeowners can start with a single modular building and add more units as needed. Martin Schmädke says families can let their kids transport one of the buildings when they move out. The child can have a home ready to live in and the parents can downsize.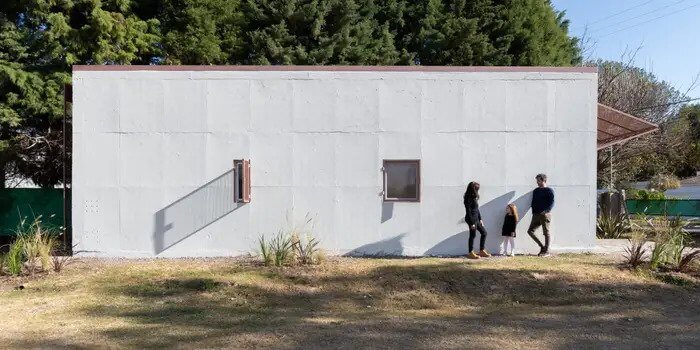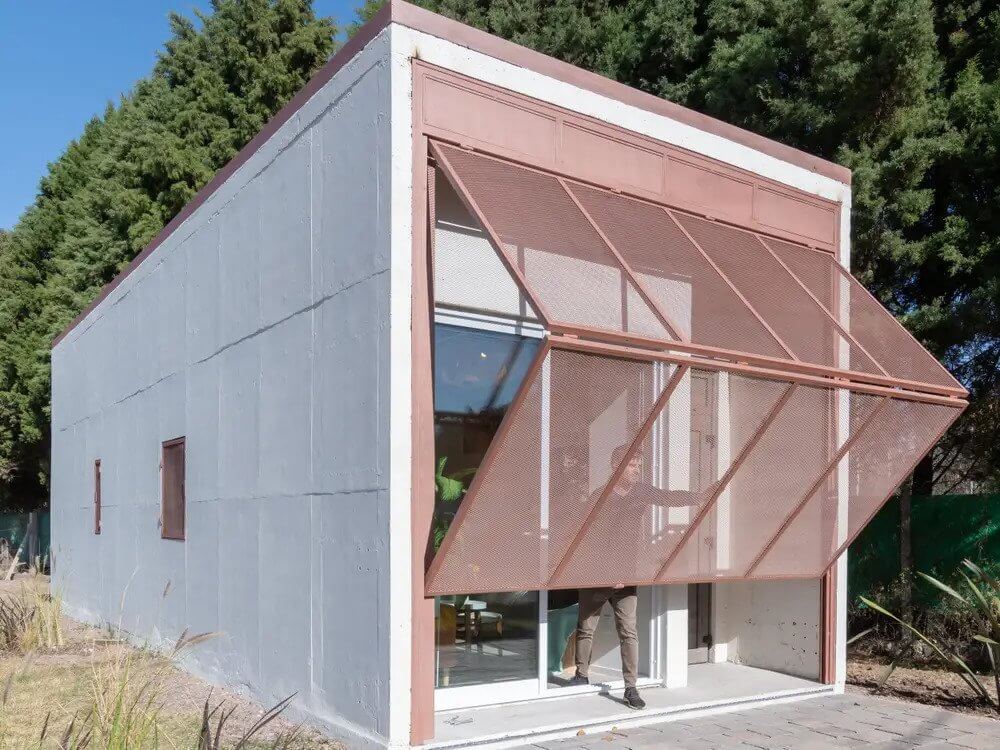 The Hüga tiny home by Grandio. Gonzalo Viramonte
Modular homes are smaller than typical stick-built homes, but the close quarters bring intimacy to the residents. Martin Schmädke says Huga's inspiration is to build a cozy place. He wants homeowners to have a residence that's easy to maintain so they have time to appreciate the little things that make life valuable. Huga builds houses for customers at every stage of life.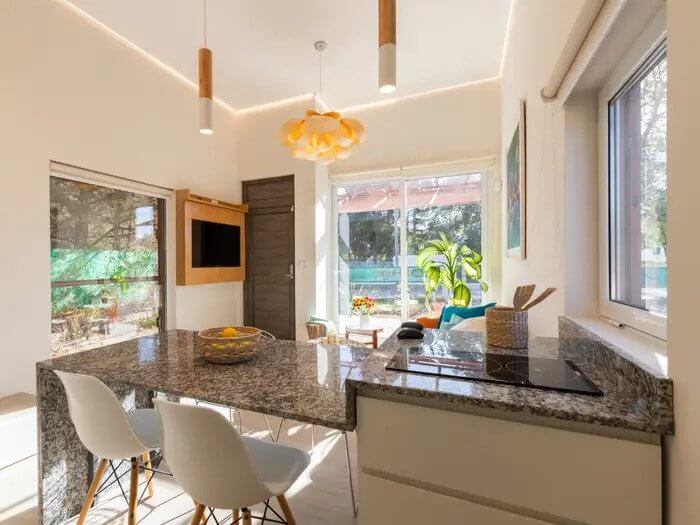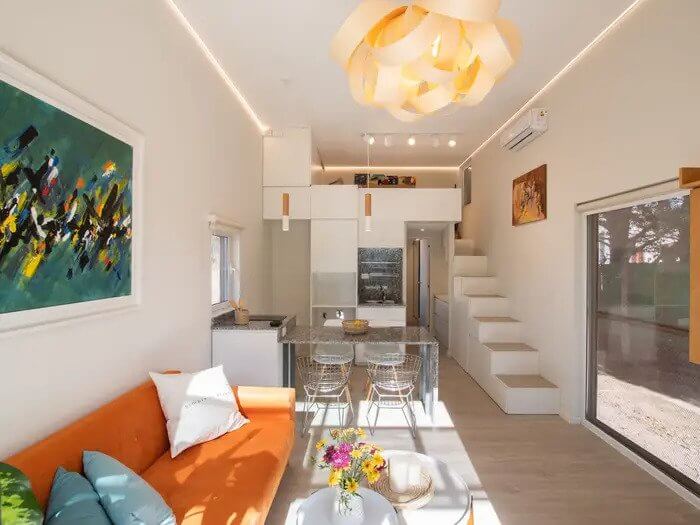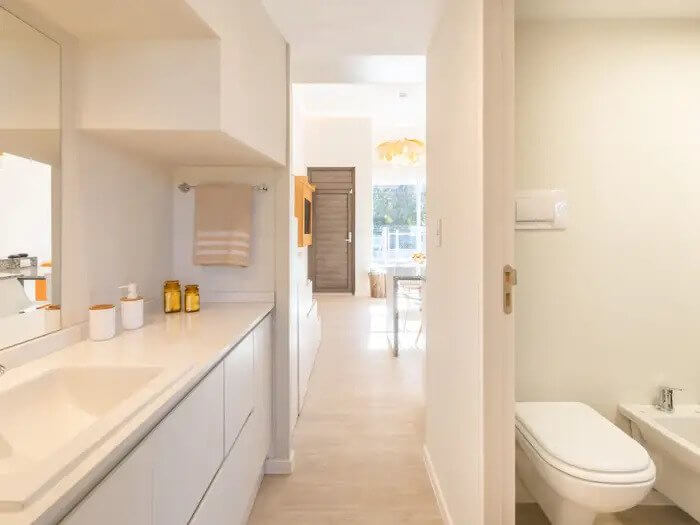 Interior shots of the Hüga tiny home by Grandio. Gonzalo Viramonte
Exploring the Benefits of Modular Housing
Sustainability is a significant factor in the minds of many in today's construction world. The built sector consumes a lot of energy and releases greenhouse gases (GHG) during production. Martin Schmädke says Huga ensures long-term use by constructing homes based on the area's climate.
For example, Martin Schmädke says artificial intelligence (AI) is essential to construction. Huga uses AI to study the sun and the environment and uses the data to determine what materials are best for the particular location it's building.
Various locations deal with different threats of weather and geological issues. For example, Californians face earthquakes while Floridians deal with hurricanes. Homes in coastal areas often abide by zoning laws and use risers to reduce the risk of flood damage. Martin Schmädke says reinforced concrete makes Huga's materials sustainable in numerous climates.
Typical houses have a life span of 70 to 100 years, depending on maintenance, weather events and other factors. However, Huga uses reinforced concrete because these structures last hundreds of years. Martin Schmädke references concrete buildings in Rome that still stand after 2,000 years.
Martin Schmädke says reinforced concrete is vital in the U.S. because of soil conditions. For example, there may be radioactive radon. Using concrete helps keep the gas inside the soil.
Concrete protects customers from outside forces like radioactive material and living creatures. The structures are termite- and insect-proof, so clients don't have to worry about bugs compromising the building in rural areas. Huga's homes are also bulletproof, giving clients peace of mind no matter where they live.
Ensuring Sustainability Throughout
Modular homes provide sustainability for the user, but it's critical to see how the building process is also environmentally conscious. Energy consumption is significant in the construction industry, accounting for 30% of the world's power use and 27% of emissions. However, Huga is changing the tune.
Most of a modular home's construction takes place off-site, limiting the materials and waste on the building site. Also, builders don't need to constantly transport and use heavy machinery that consumes fossil fuels, reducing on-site pollution. Martin Schmädke says the energy consumption is low, considering the life span of modular homes far exceeds that of a stick-built structure.
Designing Unique and Strong Houses
A significant advantage of modular building is customization by tailoring the houses depending on the builder's needs. Martin Schmädke says this style of mass production requires efficiency. Modular homes rely on preset kits, and the customer can change features like the floor and furniture. These models keep Huga efficient in its production.
Using Modular Beyond Housing
Huga Technology builds homes but also uses modular designs for various clients. The company has several divisions, including Huga Home, Huga Loft, Huga Suite, Huga Business and Huga Plus. Huga Technology is developing a new division designed for off-grid housing. These units will rely on solar energy and other renewable sources, so they don't require municipal power.
Martin Schmädke mentions Denver, a city in the heart of the Rocky Mountains. A ski lodge may request 10 modules but need off-grid technology because of its remote location. Huga Technology uses tracking build, a platform he says is helpful for real-time factory production.
Off-grid housing has become necessary as work and school have become decentralized for many. Companies with remote workers can downsize to a smaller office using modular buildings or build workspaces in smaller cities to save money on construction
Spreading the Word About Modular Homes
Sustainable housing is the way of the future, and many are using modular housing to help the environment. Huga moved from Argentina to the United States, but the company has ongoing projects in Europe, Africa, Australia and more. Modular housing is a passion for Martin Schmädke and Huga, and they aim to spread that knowledge worldwide.
About the Author: Rose Morrison is a freelance writer and designer with a background in construction You can contact her at rose@renovated.com.
Don't Miss Our Upcoming Events!
Join the leading companies and professionals from across the offsite construction industry at each of next year's Offsite Construction Network in-person events. With events taking place across North America in 2024, it's never been easier to connect with and learn from offsite construction manufacturers, designers, builders, and suppliers from the United States and Canada.
Stay tuned for news about our 2024 events, or subscribe today to get the latest Offsite Construction Network news and events direct to your inbox.