Building Sustainably with CLT: How Apex Plaza Became the Largest Mass Timber Building on the East Coast
An exclusive article from the Offsite Construction Network
Central Virginia start-up Apex Clean Energy was growing fast, and they wanted a facility to accommodate the company's 200+ renewable energy experts in downtown Charlottesville. They reached out to the architectural firm William McDonough & Partners to design a building that would encourage collaboration, health, and well-being, with an emphasis on a low carbon footprint and healthy building materials. The result is Apex Plaza, the largest Mass Timber building on the East Coast.
Apex has always been about sustainability, and they liked McDonough's emphasis on creating a "building like a tree," that was naturally beautiful, sustainable, and net-positive in energy use.
The designers used the Cradle to Cradle Design™ Framework that was originated by William McDonough in his 2002 book Cradle to Cradle, Remaking the Way We Make Things. The framework is characterized by three principles:
Everything is a resource for something else
Use clean and renewable energy
Celebrate diversity
The new Apex Plaza building realizes these principles throughout, and is built with CLT (cross-laminated timber) responsibly sourced from Nordic Structures in Montreal. The CLT product is 5x lighter than traditional steel and concrete, with comparable strength and load-bearing capabilities. Nordic Structures has an FSC (Forest Stewardship Council) Certification that ensures the black spruce used to create the panels was harvested sustainably.
The concept of "carbon sequestration" is an important component of determining the carbon footprint of a building like this. Healthy trees remove carbon dioxide from the atmosphere, and release oxygen as they sequester or store carbon. Using sustainably harvested mass timber reduces the carbon footprint in the same way a healthy tree would. The Apex Plaza also utilizes a variable refrigerant flow HVAC system for low energy consumption and reduced operating costs.
Attractive Sustainability
Alastair Reilly is a Design Partner with William McDonough who worked on the Apex Plaza project. "Apex wanted to showcase what they are doing with renewable energy, so the idea was to be net positive energy for their tenant spaces" he explained. Super-insulated walls and high-performance glass along with overall efficiency were part of the integrated design.
The Apex Plaza harvests daylight and energy from the sun, and is powered by 875 roof-and canopy-mounted solar panels. The designers made excellent use of natural light, and created a green roof habitat to promote biodiversity and retain stormwater.
The building prioritizes occupant comfort and well-being. There are large airy spaces and beautiful views, and the Mass Timber walls are aesthetically pleasing. "You don't have a lot of people going up and hugging concrete buildings," said Reilly. "When you tour this building, there are a lot of people touching the walls."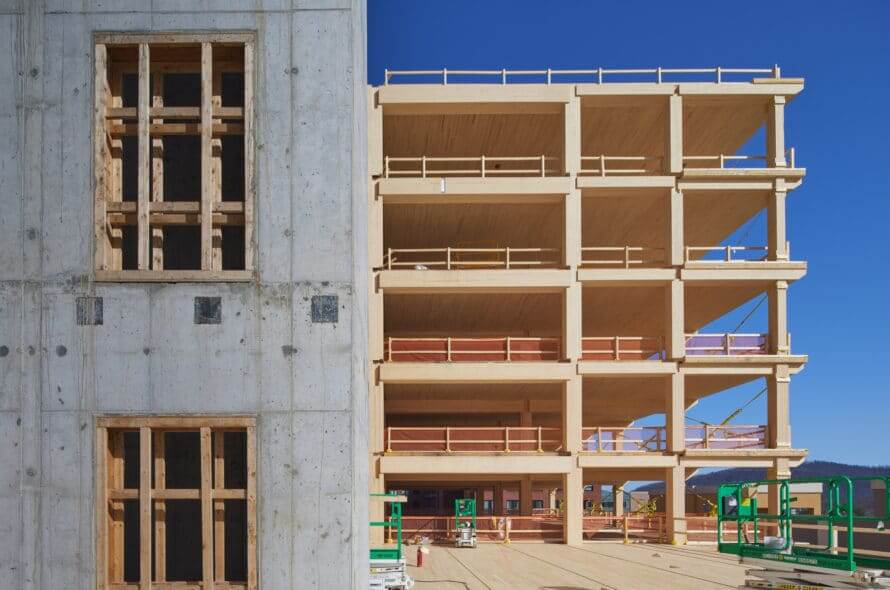 "Seeing six floors of natural wood is pretty unique," says Alastair Reilly, who worked on the project as a design partner with William McDonough. "For a while there it was the most photographed building around Charlottesville except for Monticello."
Assembly Through Disassembly
By assembling the building using only mechanical fasteners, the Apex Plaza is "designed for disassembly." It is a modular, adaptable, and cost-effective structure, and the connections and parts maintain their residual value. "We find that if we think about how a building can be disassembled, it makes the assembly easier," said Reilly, "you could disassemble it and maintain the integrity of the beams."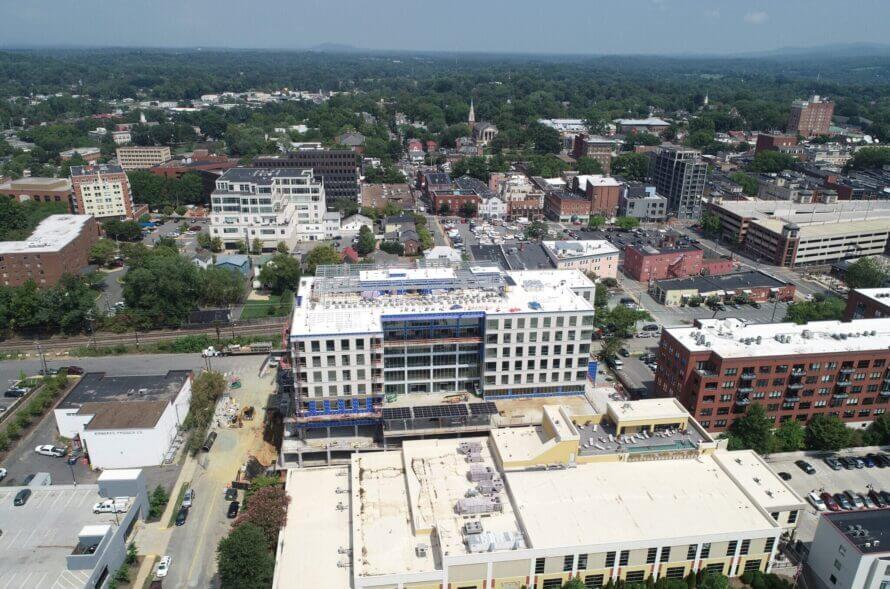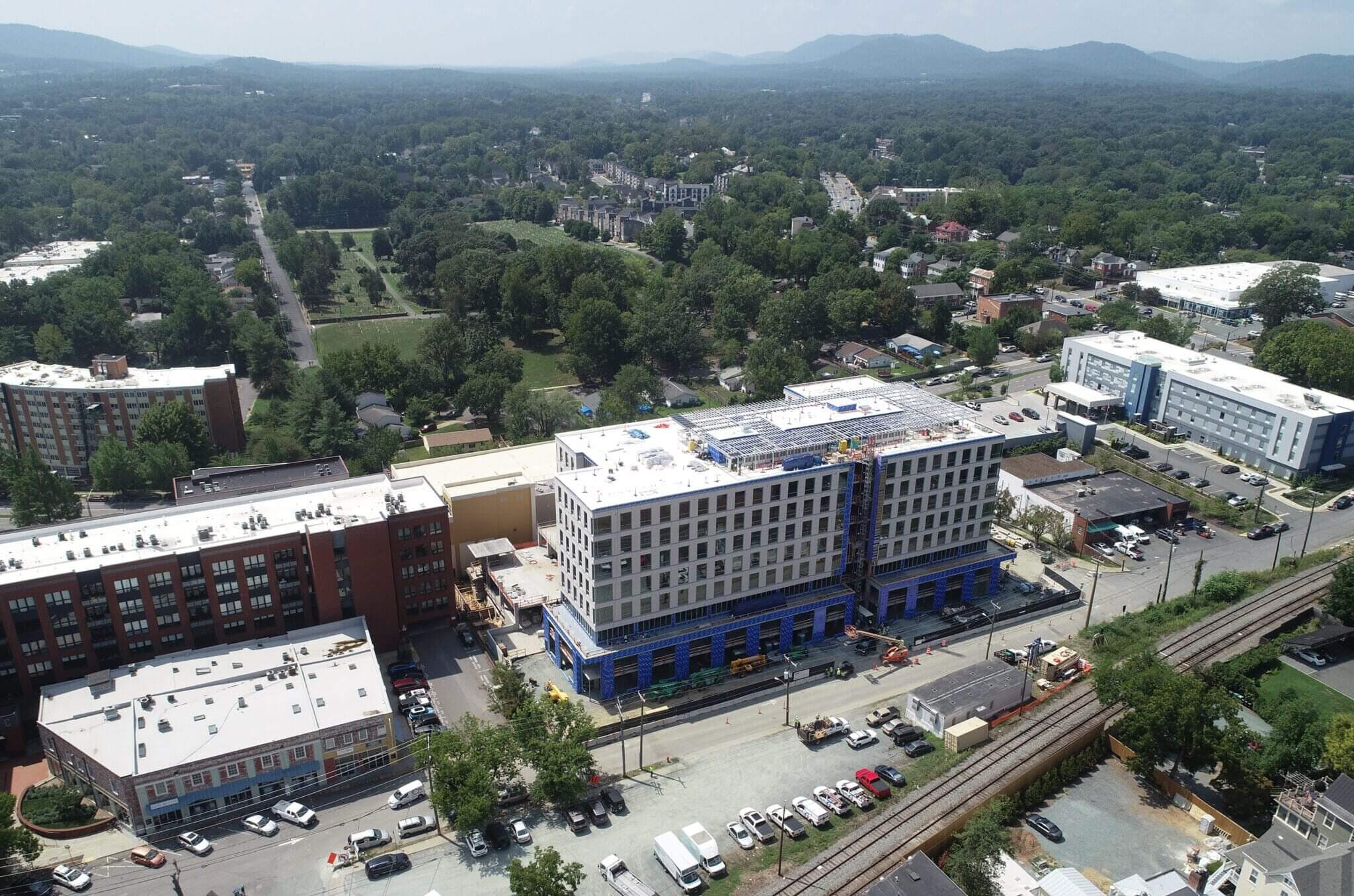 Nordic Structures, the offsite prefabricator, sent the building's panels in the sequence that they were needed, which meant no laydown or storage on site. This was critical since the Plaza was built in a relatively dense downtown environment.
Built Offsite, Delivered As Needed
This was a JIT (Just In Time) project, and all of these products were prefabricated offsite. Nordic Structures sent the panels in the sequence that they were needed, which meant no laydown or storage on site.
A big advantage of designing with CLT is the length of the spans. The glue laminated beams can typically span up to 30 feet, and the cross laminated panels can be up to 10 feet wide and 50 to 60 feet long.
"All of the panels were cut to size, numbered, dropped in, and pin connected." Reilly explained. "It's a kit of parts, glulam beams and columns. This minimizes the amount of purlins and cross beams, and there is no cutting in the field, so it takes 50% less crew." Reilly also noted that this type of construction eliminates a lot of the noise associated with a typical site.
Erection of the building started in February. It was a wet winter, so pouring for the concrete parking garage was a little behind in the snow. To stay on schedule, they split the wood structure in half, starting on the east side and topped out while concrete was still pouring in the southwest corner. "The wood structure was able to split in half and let concrete catch up," explained Reilly. "We were able to piggyback and save some time with overlap."
The Apex Plaza was fully topped out in April.
Mass Adoption of Mass Timber?
Big companies like Walmart and Google have carbon mandates, so interest in Mass Timber is high, but it's all about the supply chain. Reilly predicts a bit of a bottle neck in the panel manufacturing process. "We have the timber, but it requires large factories with big presses to create the CLT product."
The future does look bright for CLT buildings, and the codes have been updated to 18 stories and beyond. "We were cost-competitive with steel and concrete," Reilly said. "Bigger panels, larger elements, less parts and pieces. I think the future is tall mass timber buildings, and training a new type of labor force to put them together. It's all screw guns and mechanical fasteners on site."
The Apex Plaza was 95% occupied when it opened. Apex is the anchor tenant, with their offices taking up five and a half floors. Southern Environmental Law and Hourigan General Contractor also have offices there. According to Reilly, it was not advertised. "Once you saw it going up it sold itself," said Reilly, "seeing six floors of natural wood is pretty unique…for a while there it was the most photographed building around Charlottesville except for Monticello."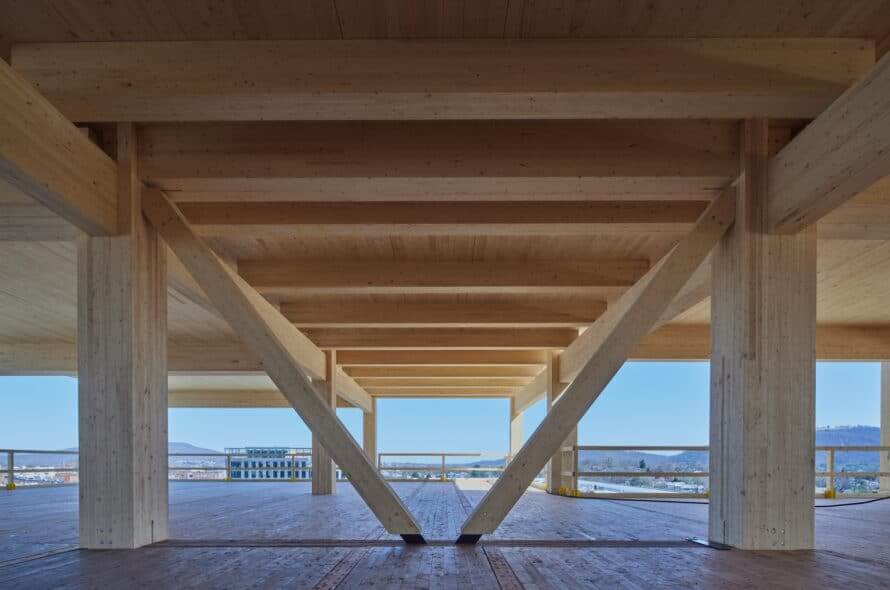 About the Author: Margie Schramke is a freelance writer and designer with a background in modular building. She spent three years as a local journalist and seven years as the Marketing Manager of a large modular construction company. You can contact her at margieschramke@gmail.com.
Don't Miss Our Upcoming Events!
Join the leading companies and professionals from across the offsite construction industry at each of this year's Offsite Construction Network in-person events. With events taking place across North America in 2023, it's never been easier to connect with and learn from offsite construction manufacturers, designers, builders, and suppliers from the United States and Canada.