The Potential of Prefabrication: An Interview with Geene Alhady, President of Clark Pacific
An exclusive article from the Offsite Construction Network
Founded as Tecon Pacific in 1963, Clark Pacific started in West Sacramento on a four-acre site with 15 employees. In 1966, James Clark joined the then-small firm as its general manager.
Over the next few years, the company grew rapidly during the pioneering stages of the prefabrication industry in California. New forming, casting, stripping, finishing, loading, shipping, and erection techniques were being developed throughout the industry, and Tecon Pacific (now Clark Pacific) was at the forefront of this development on the West Coast.

Now, Clark Pacific bills itself as "the single-source of responsibility through collaborative design, advanced manufacturing, and efficient delivery of high quality and cost-effective prefabricated building systems."
Geene Alhady began his career with McCarthy Building Companies holding various roles including managing large construction projects in the healthcare and high-tech industries. In the years that followed, Geene served as president of Meridian Systems, a plan-build-operate technology solutions company, and then as general manager of Trimble Buildings' Real Estate and Workplace Solutions Division.
Geene joined Clark Pacific in 2016 bringing his organizational and marketing expertise as Executive Director of Sales and Marketing. Geene now serves at Clark Pacific's president.
Offsite Construction Expo (OSCE): Can you tell us about Clark Pacific and the principles behind your business?
Gene Alhady (GA): We are a manufacturer of building systems for the construction industry. Our business model leverages prefabrication, panelization and modularization to save time, money and increase quality in an environmentally sustainable approach. Clark Pacific has been a major innovator in the construction industry for decades, adopting prefabricated construction processes early in our inception.
Geene Alhady, President of Clark Pacific
OSCE: What is Clark Pacific known for?
GA: Determination, Innovation and well-being of all stakeholders – what's unique about Clark Pacific is our engineering competence. Though not well known we are one of the largest employers of civil engineers in Northern California.
OSCE: What are some significant milestones you've reached over the years?
GA: We've reached several, but among them are:
Transitioning from architectural precast cladding systems to complete building systems,
Transitioning from solely a precast subcontractor to a market and product-based manufacturer, and
Adding a design-manufacture build approach for complete integrated delivery.
Additional milestones include our participation in iconic projects like Apple Park, Stanford's Escondido Village Graduate Housing, and Mission Rock.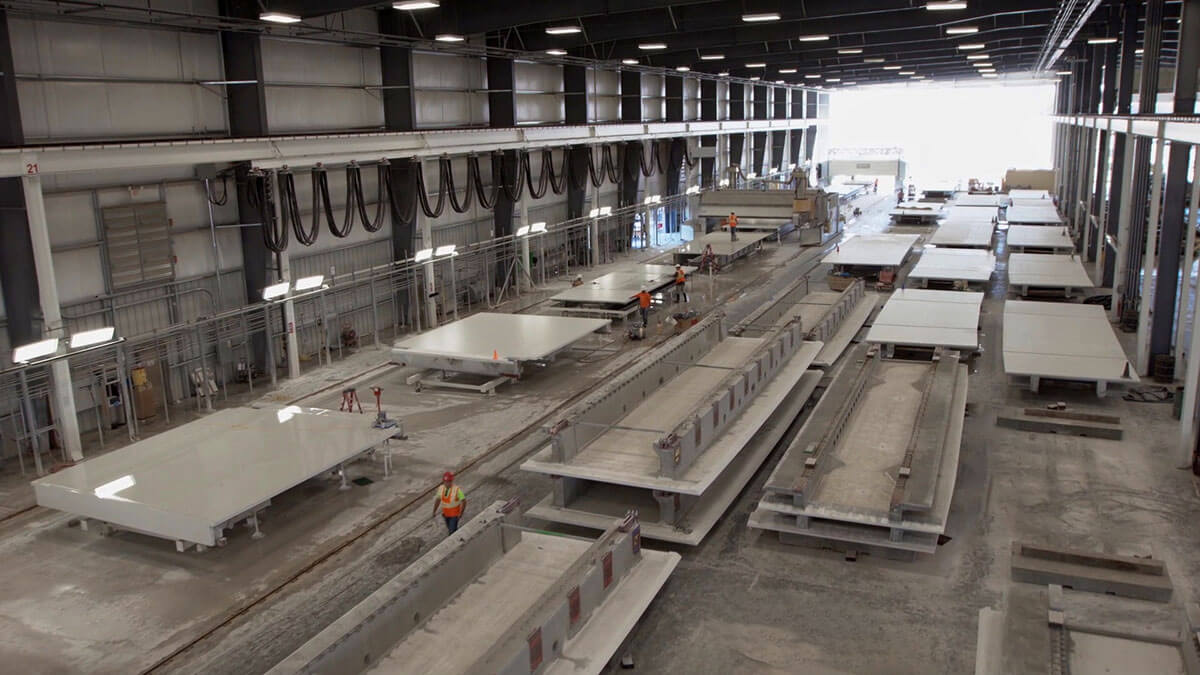 An aerial view of one of Clark Pacific's offsite construction factories.
OSCE: What is driving growth for Clark Pacific?
GA: Right now, we're seeing more adoption and wider acceptance of prefabrication due to an accelerated market with limited resources and tighter schedules. As a result, we're transforming to a product approach, making it easier for project stakeholders to take full advantage of offsite construction. In addition, we're being very strategic with our hiring. We have made key hires from inside and outside the industry in executive management, marketing, product management, engineering and manufacturing expertise. It's an exciting time.
OSCE: When it comes to industry trends, what is on your radar for this year?
GA: Market recovery will drive the acceleration of industrialization of our industry. I believe there will be incremental prefabrication innovations so that the market can receive real benefit with acceptable risk.
Also, we are seeing market segments or programs that will adopt offsite construction at an accelerated pace; for instance, large capital building programs will leverage standard systems over and over.
OSCE: When it comes to innovation, what is your vision for Clark Pacific?
GA: Our vision is incremental innovation to continue to transform, but not overly disrupt — challenging the industry but not breaking it. A general example would be integration of multiple materials to singular manufactured product that allows consolidation of multiple traditional trades that provide performance benefits and de-risks the customer. Also continuing innovation with our customer relationships, our business model enables us to offer the highest value when working directly with the end user with their vision in mind.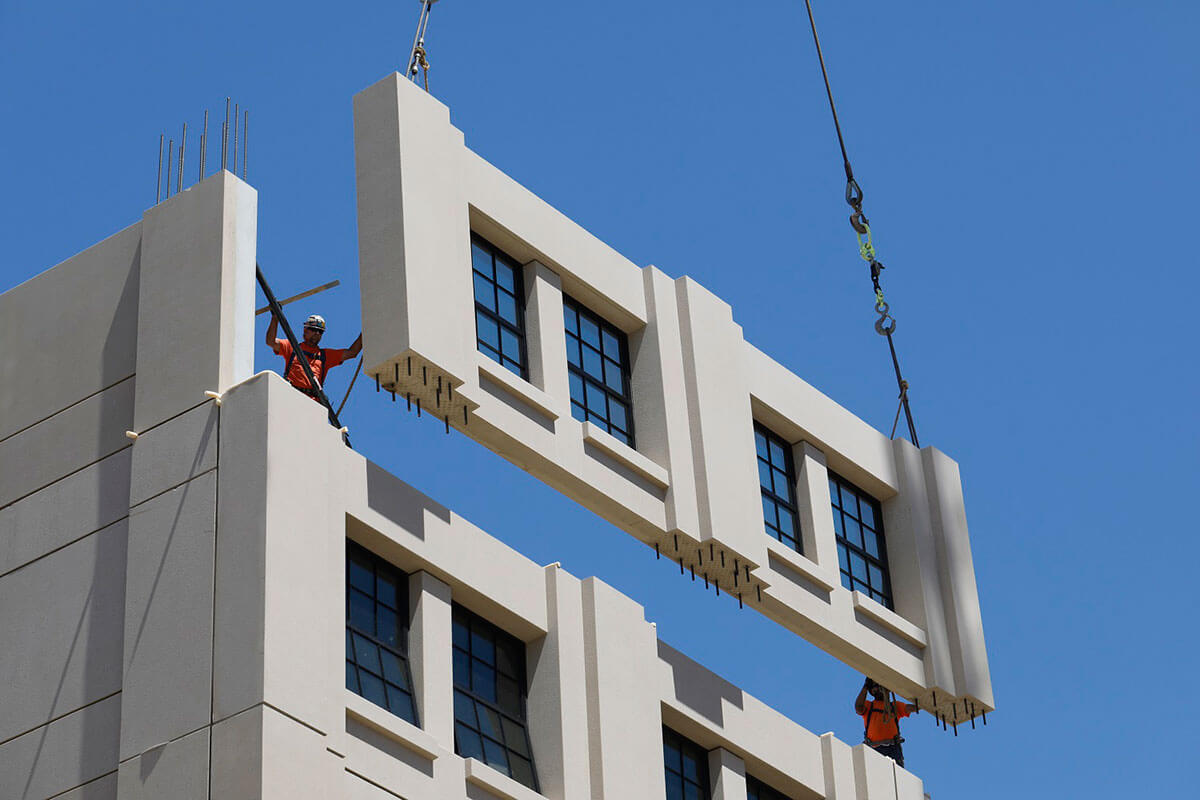 OSCE: Has the market reached a tipping point where it's aware of prefabrication as a viable and valuable alternative to traditional construction? Or is there a need to continue educating the market?
GA: Continuing to educate the market will be critical for the industry to fully adopt prefabrication. As industrialized construction methods and means continue to evolve, market engagement will be key to its acceptance and longevity.
OSCE: What is key or needed for growth in prefabrication?
GA: Eco-system behavior and project development processes needs to evolve but it can only evolve when the value is understood. As an example, if the goal is a sustainable building, prefabrication needs to viewed as the "how" to achieve the end goal and the relationship between sustainability and prefabricated solutions needs to be understood.
Prefabrication should not be viewed as having to give up something to receive a desired outcome. Manufactures need to design their products for the needs of the end- user without tradeoffs versus the traditional approach of designing a custom project and then looking for contractors to prefabricate.
OSCE: What is your point of view on prefabrication and sustainability? Can the two go together and what are Clark Pacific's initiatives around it?
GA: Prefabrication and sustainability are absolutely interdependent.  It will require product manufactures develop designs that include material selection, manufacturing processes with operational and embodied carbon in mind.
Additionally, sustainability if often viewed through the lens of just the environmental impact.
At Clark Pacific, we value a more holistic definition of sustainability to also include the impacts on people and the local economy. During our controlled prefabrication environment, sustainability is a driving core value in all we do leading to a positive impact on people, the environment, and the economy.
This holistic approach includes:
Bringing in 90% of the labor force locally
Creating 58% of energy used during prefabrication from on-site generated photovoltaic electricity
Reducing trips on and off job sites for less cluttered construction sites for workers, less noise, dust, and delivery disruption to the local community
Using advanced technologies in reusable molds and forms with less waste
Recycling or reusing nearly all water used in our prefabrication batch processes
OSCE: What is your advice for those considering prefabrication/offsite construction?
GA: Understand the goal for the project and reach out to manufacturers for those early conversations, understand the solutions available and the processes needed to obtain the desired outcomes. As mentioned earlier, think of prefabrication as not necessarily needing to give up something for the desired result.
OSCE: What does the future hold for Clark Pacific?
GA: Stay the course and advance industrialized construction innovations and products that provide value to the market.
About the Author: John McMullen is the marketing director for the Offsite Construction Expo. He can be contacted at mcmullen@hardimanwilliams.com.
Don't Miss Our Upcoming Events!
Join the leading companies and professionals from across the offsite construction industry at each of next year's Offsite Construction Network in-person events. With events taking place across North America in 2024, it's never been easier to connect with and learn from offsite construction manufacturers, designers, builders, and suppliers from the United States and Canada.
Stay tuned for news about our 2024 events, or subscribe today to get the latest Offsite Construction Network news and events direct to your inbox.