A-LINX: Modular Building for the Future
An exclusive article from the Offsite Construction Expo
With the price of building materials steadily climbing, any advantage in construction is huge. Modular construction, in particular, is offering significant advantages in a rapidly evolving industry. Consistency, efficiency, and overall speed are some of the main advantages of modular, and A-LINX Building Technologies is taking it to the next level.
Specializing in pre-fabricated light gauge cold-formed steel structures, on average, A-LINX offers a build time that is up to 25% faster and 15% lower in cost than conventional construction. Because all of the components are pre-assembled in factory-controlled conditions, they can avoid weather delays, reduce time on site, and apply rigorous quality control standards.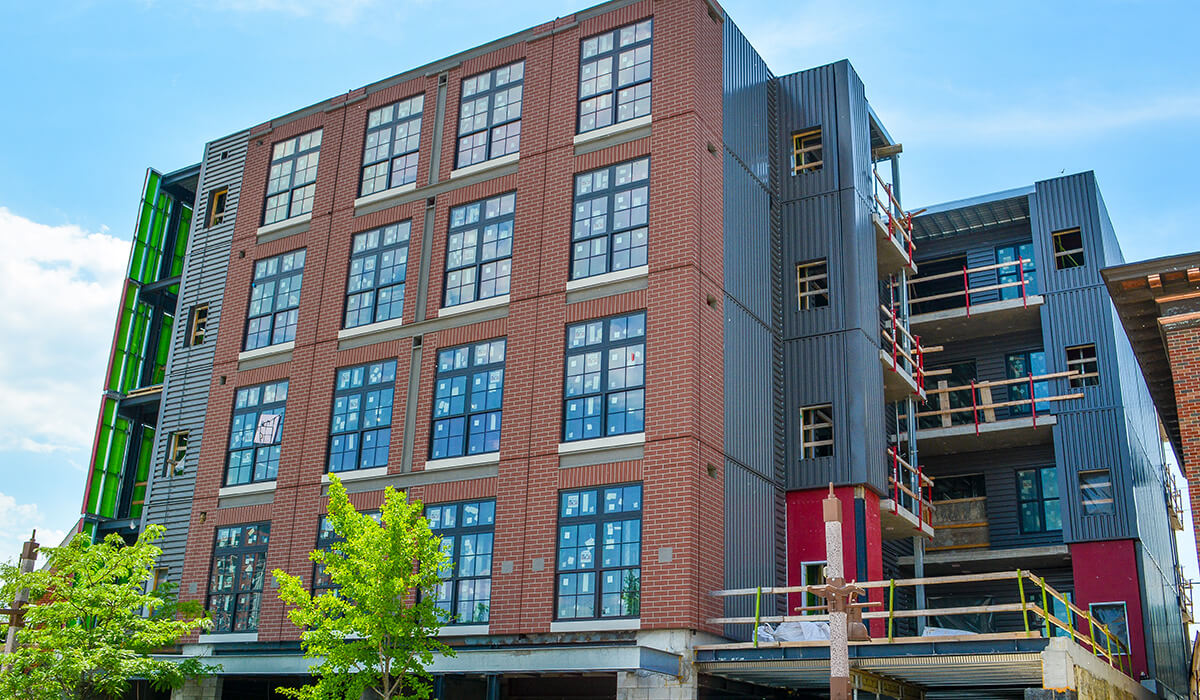 The Hive on Pelissier is located in Downtown Windsor, ON and is a ~20,000 SF, 5-story boutique modular condominium development with on-grade parking. The buildings exterior boasts a unique façade with a combination of Faux-Brick EIFS on the building front exterior and patterned metal siding on the rear and sides. Located on a zero-lot line property with restricted access, the A-LINX Building System provided an optimal approach to erection.
Located in Oldcastle, Ontario, the primary A-LINX facility is 58,000 sq. ft. of indoor manufacturing space, and 4 acres of outside storage and expansion space. The primary products assembled here are exterior and interior load-bearing wall systems, side-bearing wall systems, parapets, and roof trusses. All the steel used at A-LINX is galvanized to prevent corrosion, and their interior and exterior panels meet residential fire resistance ratings.
Matthew Pellitteri is the General Manager of A-LINX, and he explained some of the advantages and misconceptions about their systems.
"Often, those that have not used this method of construction in the past or who lack a more refined understanding suggest that it's less expensive because it is "cheaper," he said, "but that is incorrect and misleading. When intelligently designed, prefabricated, and installed correctly, Cold-Formed Steel can reduce issues on site, improve erection schedules, and include several supplemental trades that can be factory installed and accelerate the clients ROI."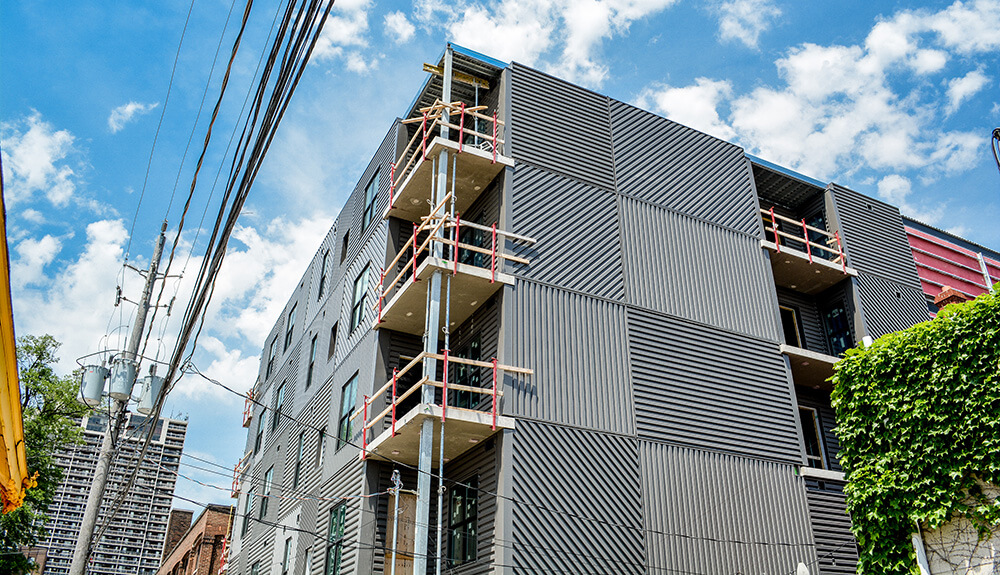 At the Oldcastle manufacturing facility, operations include in-bound and out-bound logistics, sub-assembly, welding, framing, window installation and exterior panel pre-finishing. All components are manufactured in a versatile gravity-fed assembly system, which means no moving conveyors. "It's a nimble system that allows us to manipulate what we have on the floor at any given time," explained Pellitteri.
The design, consultant approvals, and fabrication of wall panels are front-loaded, which demands the coordination of many subtrades to expedite design and approvals. This allows fabrication of wall panels on the initial floors to occur while site servicing and sub-structure work is underway. If the client has to make a modification, panels still inside the manufacturing facility can be easily modified prior to arriving on site for installation.
Options & Adaptability
In addition to the "base package," a standard panel with a prefinished EIFS (Exterior Insulated Finished System) is available. This includes an air barrier, rigid or mineral wool continuous insulation, a fabric mesh with taped corners, seams, and joints, a base coat and a finish coat. Finishing options include standard stucco colors, faux brick facades, metal siding, and thin brick application, as well as window, door and mechanical sleeve installation.
A-LINX systems are completely compatible with other building technologies, and integrate seamlessly with most engineering designs. Design flexibility allows for custom specifications and last-minute changes.
"A client does not have to design around our system" said Pellitteri, "we design around their system."
Creating The Hive
A recent residential project illustrates the capabilities of A-LINX. The Hive on Pelissier is a five-story luxury apartment complex located in the heart of downtown Windsor. Working in tandem with their parent company Amico, the project was completed in September of 2021.
A-LINX and Amico are vertically integrated through A-LINX's ability to supply its prefabricated and prefinished building system and Amico's general contracting capabilities.
The Hive on Pelissier came with some unique challenges. Preparing the site involved demolition of an existing structure. The original foundations were maintained, and retrofitted to support the new structure. The scope of work between Amico and A-LINX on this project included installing a deep-ribbed (Comslab) flooring system. A-LINX chose the Comslab system for several reasons. According to Pellitteri the system has many advantages, including ease of install, lighter weight compared to other flooring systems and more favorable lead times. "The Comslab system's ability to reach spans that suit our target building demographic and its PSF allow us to keep our steel thickness, and essentially costs of load bearing wall panels, much less than some of its competing floor systems," he explained.
Tight Squeeze
Built on a zero-lot-line property with limited access, getting materials on site was a project in itself. The only access to the building was via a main street in front of the building. Offloading was successfully executed by sequencing panels on the trailer in an order that minimized additional handling. Constant communication and coordination between the A-LINX plant and Amico was required to pull it off.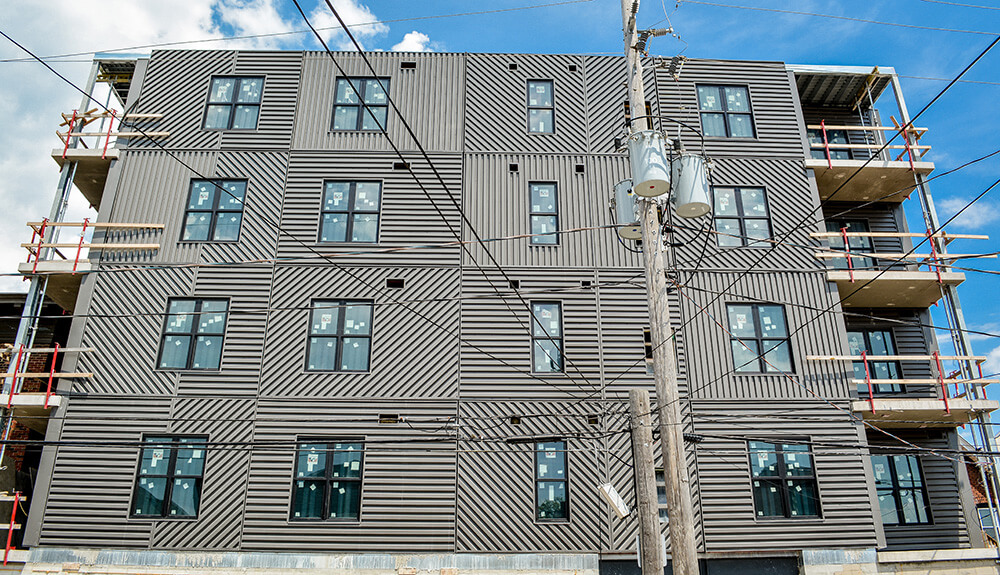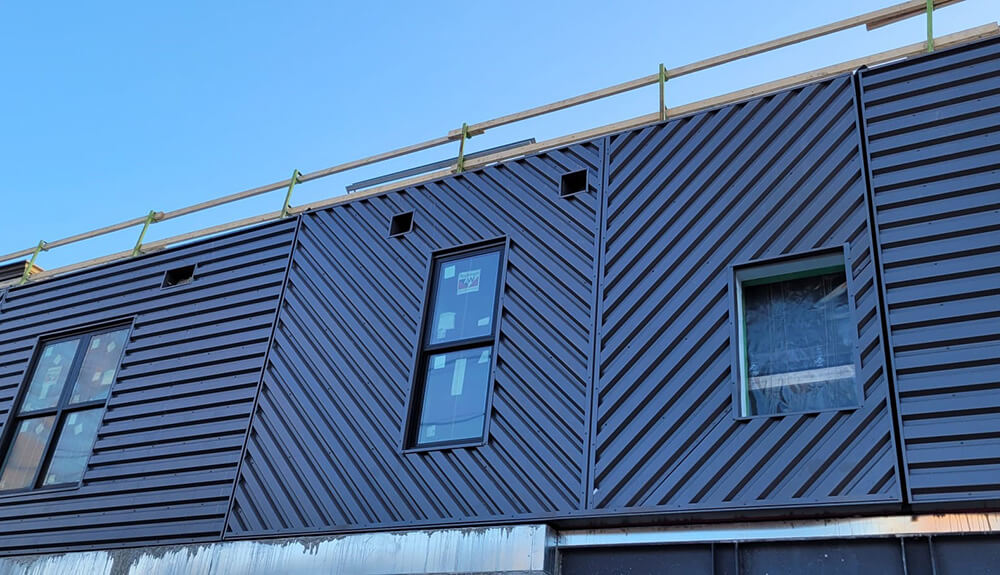 The prefabricated cold formed steel wall panels used in The Hive project had two aesthetic finishes. One was a unique metal siding pattern, and the other was a prefinished faux brick façade applied to the front of the building. The front finish was originally specified as real brick, but was changed to a façade, which provided the same look, but lightened the required steel wall at the front and mitigated brick ledge requirements which decreased install time.
The Art of Collaboration
Pellitteri described The Hive project as "an example of what can truly be accomplished with detailed pre-construction coordination and a focused effort on execution." "In summary," he continued, "the best practice we could suggest would be to align yourselves with trustworthy and competent subcontractors, focus on planning to ensure seamless execution, and forecast for worst-case scenarios, even though they may not occur. Luckily, we followed our own advice and collectively managed to complete a project with success and to the intent desired by our client and owner."
About the Author: Margie Schramke is a freelance writer and designer with a background in modular building. She spent three years as a local journalist and seven years as the Marketing Manager of a large modular construction company. You can contact her at margieschramke@gmail.com.
Don't Miss Our Upcoming Events!
Join the leading companies and professionals from across the offsite construction industry at each of next year's Offsite Construction Network in-person events. With events taking place across North America in 2024, it's never been easier to connect with and learn from offsite construction manufacturers, designers, builders, and suppliers from the United States and Canada.
Stay tuned for news about our 2024 events, or subscribe today to get the latest Offsite Construction Network news and events direct to your inbox.